Poor Americans have inadequate legal counsel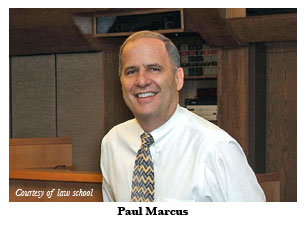 "The right of one charged with crime to counsel may not be deemed fundamental and essential to fair trials in some countries, but it is in ours. From the very beginning, our state and national constitutions and laws have laid great emphasis on procedural and substantive safeguards designed to assure fair trials before impartial tribunals in which every defendant stands equal before the law."
In 2003, forty years after Justice Black spoke those words on behalf of the Supreme Court's decision, the National Committee on the Right to Counsel aimed to find out just how effectively indigent defendants' right to counsel was actually being carried out in all 50 states. To investigate, the National Committee sponsored several initiatives to study the legal and ethical requirements for adequate criminal defense representation and to build a consensus of recommendations for reforms.
Paul Marcus, R. Hugh and Nollie Haynes Professor of Law at the Marshall-Wythe School of Law, and Mary Sue Backus, associate professor of law at the University of Oklahoma, were asked to head the committee's Right to Counsel Project. Marcus and Backus, a 2001 graduate of William and Mary's law school and Marcus' former student, teamed up as co-reporters for this important initiative that, through their efforts, canvassed law practices in all 50 states on the right to counsel provided for indigent clients.
"Despite the fact that Gideon v. Wainwright (1963) was decided more than 40 years ago," Marcus said, "and despite the fact that most polls show American citizens favor using tax dollars for legal representation for poor defendants, the criminal justice system in this country is in crisis. Prior to our national study, no one had studied the entire country for many years. Since a large number of states have not funded the public defenders' offices sufficiently, we have found that, in many states, the 'meet 'em, greet 'em, plead 'em' philosophy for lawyers defending poor people is still in full effect."
With some notable exceptions, Marcus said, many states do not sufficiently fund defense attorneys for poor defendants and do not adequately train lawyers in defense techniques. The result has been that a higher proportion of poor defendants serve prison time, face executions or do both in states that permit execution of criminals.
"It is our great hope," Backus said, "that the committee's work will generate real reform. The remarkable thing about this issue is that it is not news to anyone in the criminal justice system that poor criminal defendants are often denied competent representation. Reports from the last 40 years have shown that there has been no significant change in many states. The composition of the National Committee on the Right to Counsel, representing virtually every participant in the criminal justice system, and the national focus of the study give me hope that our call for reform will not be ignored this time."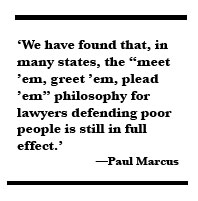 "In addition," Backus said, "the time is ripe for action on this issue as the public becomes increasingly aware that we are convicting, imprisoning and sometimes executing innocent people due to the failures of the system. As Americans, we pride ourselves on our legal system being fair and just. I don't believe the public will continue to ignore the evidence that we are not being fair or just to poor defendants."
How these conclusions were reached is the direct result of the initiative overseen by Marcus and Backus. A central feature of the committee's research, The Right to Counsel Media Project, was designed to collect, organize, summarize and analyze a significant representative sample of media coverage of defense issues for indigent people nationwide during a 10-year period. The goal of the project was to compile a substantial sample that would reflect fairly the salient issues confronted by states in attempting to provide poor criminal defendants with adequate legal representation. Twelve William and Mary law school students were recruited in 2004 to conduct the media research. They reviewed every major newspaper article from 1994 to 2004 in all 50 states, the District of Columbia and Puerto Rico on the subject of the right to counsel. About 1,000 articles were reviewed. The students were led by Virginia Vile of the law school's Class of 2005. She coordinated all the media research conducted by the other students.
To hold costs to a minimum, Vile used both the LexisNexis and Westlaw legal databases to search through newspaper databases. She tested key search terms, such as "Gideon v. Wainwright," "public defender system" or "right to counsel," and she recorded all mentions of those terms and instructions for further research. The other students, many of them volunteers from Marcus' criminal procedures class, then spent innumerable hours searching for relevant articles based on the original set of key terms. Dividing their work by state, each student recorded and printed every article that matched the search terms.
"The creation of the database was an intense but rewarding process," Vile said. "I skimmed each article I received and then designed a general spreadsheet that would include specific information about each article we kept for review." The spreadsheet included the newspaper's name, the date and title of each article and a brief summary of the article. She was then able to provide a column on the spreadsheet that categorized the articles by subject matter. Many of the newspaper articles dealt with the lack of funding for the public defense system and case overloads, Vile said.
Vile and Marcus wrote this in the executive summary of the media project, which will be released in early 2007: "This wide-ranging collection reveals that there are overarching, common issues facing the states in meeting the constitutional obligation established by Gideon v. Wainwright and its progeny. While newspaper coverage is best viewed as a broad reflection of non-legal views from news reporters and the general public, the startling consistency of the media coverage across the nation suggests that there are well-known problems with the indigent defense system nationwide."
The report continued: "Despite this support for the right to counsel for poor criminal defendants, the media coverage also reflects that continuing problems with the states' indigent criminal defense systems are undermining this fundamental right to counsel. Chronic problems include a disproportionate number of indigent defendants assigned to public defenders, the lack of training and supervision of indigent defense attorneys, poor-quality representation given to indigent defendants by these attorneys and case overloads that continue to plague the attorneys and exceed national standards. Ultimately, the newspaper coverage traces most, if not all, of these problems to a severe lack of funding and resources."
In addition to Virginia Vile, who supervised the media project, the following William and Mary law students were involved in conducting the research: Kristine Wolfe, Class of 2005, who assisted Vile in this very large endeavor, and researchers Jacqueline Chiang, Noelle Coates, Patrick During, Christina Eberhart, J. T. Morris, Andrea Muse, Robert Pealo, Danny Ramish and E. Ashleigh Schuller, all all from the Class of 2006, and Gordon Klugh, from the Class of 2005. Dana Otey of the Marshall-Wythe School of Law Faculty and Academics Support Center, was also a key individual in ensuring the project's success.
Backus and Marcus will ensure that members of state legislatures and judiciaries receive a copy of the study and its implications for their states. The professors already have taken their message of reform to the second annual Summit on Indigent Defense hosted by the American Bar Association this spring and have addressed law students, lawyers, judges and faculty members at the law schools of Harvard, Houston, Oklahoma, Stanford, George Washington Wake Forest and William and Mary universities.
"Once the report is issued," Backus said, "I suspect the national committee members will also be making presentations and seeking to educate policymakers about the imperative of reform."
The National Committee on the Right to Counsel is part of The Constitution Project, based at Georgetown University's Public Policy Institute. The project seeks consensus solutions to difficult legal and constitutional issues. It does this through constructive dialogue across ideological and partisan lines and through scholarship, activism and public-education efforts.