Galano's students learn to give psychology away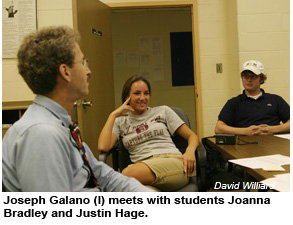 To improve the human condition, send students upstream. That is the strategy that Joseph Galano, associate professor of psychology, employs each year when he assigns 25 students enrolled in his research practicum to service in the greater Williamsburg region. He sends them to what are, in a sense, the headwaters, where they work with community-service groups such as Avalon and Eastern State Hospital to address the source of sexual assault, domestic violence, substance abuse and other disorders that plague society.
For 28 years at the College, Galano has been been espousing the attributes of community-focused psychology. In the process, he has become known for his scientifically based evaluations of numerous programs as he helps some find direction and lends credibility to others. Much of the work is funded by grants. "I get some of the smallest grants around; I'm a blue-collar guy," Galano explained. Over the years, however, those grants have totaled more than $2 million dollars.
"Community psychology is a reaction against theoretical clinical psychology, which wants to give names to problems and to label people in terms of their deficits," Galano explained. "It involves psychology that is very applied. It is psychology at the intersection of scholarship and service."
By the end of the practicum, the students understand Galano's vision. "Upstream," they say, echoing a phrase popularized by their instructor and mentor, "is the place to go to give psychology away."
This year, students enrolled in Galano's practicum helped families deal with death, at-risk children deal with anger management, victims of domestic abuse learn empowerment skills and even helped the College assess the risks of on-campus alcohol abuse. Some of the students, such as senior Melody Mickens, chose their placements based on personal interests; others, such as Joanna Bradley ('06), were steered into settings that took them far beyond their spheres of comfort. Recently many of the students discussed their contributions and the lessons they had learned.
Mickens had provided care for her dying grandmother two years ago; this year she worked with Hospice House, where she developed a care-assessment survey while gaining insights into the challenges of nonprofit management. "In terms of taking psychology outside the academic realm and applying it to the community, hospice is a perfect example, because they are really helping people learn how to grieve, helping people prepare for something American society does not like to embrace," Mickens said. "The idea is to not just place them in hospitals and overmedicate them to make them comfortable. It is to realize that these are people who have final wishes to be carried out and families that need to be taken care of."
---
'Community psychology...is psychology at the intersection of scholarship and service'
—Joseph Galano
---
Bradley worked at the Community Crossroads Youth Home, where she counseled young men between the ages of 14 and 17 who are at grave risk for adopting lifestyles marked by aggressive criminal behaviors. In the process, she found herself leading anger-management sessions and teaching problem-solving skills, along with playing some basketball, watching television shows and "just hanging out." At one point, she designed her own deep-muscle relaxation sessions, which were well-received. Although she at first was worried about working with "the worst kids from every school," once they were engaged, she never felt threatened, she said. She discovered that most of the young people were intelligent, frustrated and angry. Labeled as "the bad kids," they had become caught in a cycle of living up to that designation. "A lot of them learned at a young age that the way to solve a problem was with their fists," Bradley said. "Most of them come from single-mother households and have a lot of anger against their mothers. A lot of them just don't know how to remain calm. The amazing thing is they are really good kids, really smart kids. One was very intelligent. He made all these great analytical analyses but was a horrible speller who struggled to express himself."
Other students plugged into the community in similar ways and came away with the same positive experiences. Senior Katie Bussewitz, who worked in the psychological services division at Head Start, saw 4- and 5-year-old children battling emotional disorders that made them a threat to other children as well as to themselves. Although she administered mental-status examinations and prepared related reports, she volunteered to write a newsletter column to educate parents on topics such as resiliency, how to help kids calm down and how to help their children identify their feelings. Ann Hagan ('06) worked with the transitional housing program sponsored by Avalon, a sexual-assault shelter for women and children. There, she encountered women who came from abusive situations in which they had their funds restricted and their social relationships controlled. "In terms of giving psychology away, it's sort of empowerment, an offering up of the options," Hagan said. During one group meeting, she was asked to demonstrate how to use a condom. "The woman had been married three times and did not think she needed a condom because she had had her tubes tied and was not going to have children," she said.
Kelly Jones ('06), who worked at People's Place, a mental-health day-support program for people with mental disabilities, helped "consumers" learn basic skills such as how to use public libraries and computers. She created a special health, nutrition and fitness group to help those who had had their needs met and their schedules planned by institutions learn how to plan meals and to exercise. She suggested that using the word "consumers" is important because that signifies that "they no longer are patients."
At William and Mary, junior Michelle Treseler worked as a health and education intern with the College's Counseling Center, where she helped conduct an alcohol-screening drive, worked on an assessment of the potential for prescription-drug abuse at the College and led the 21 program, which encourages responsible choices by those celebrating their 21st birthdays. "At first, I thought there is no way this 21 program will work," she said. "I mean, they're turning 21—there is no way they will not be drinking." To her delight, the program not only was accepted, it also became an anticipated event that saw birthday celebrants earning points by visiting campus statues, posing for pictures with the College's president, engaging Colonial reenactors and eating desserts at the Trellis restaurant, among other activities.
Justin Hage ('06) worked with a school-based counseling program coordinated by Avalon and the York County School Division. He worked with middle-school children who had exhibited signs of alienation and of disrespect for authority. "Young people who show these signs are more likely to become perpetrators of sexual assaults or domestic violence," he said. Indeed, many of the children had witnessed domestic violence in their homes or had been victims of it themselves, he said. "We worked to make changes in their mindsets, about what it means to be a man," Hage explained. "That defines the whole concept of community psychology in a nutshell. You're not trying to patch things up. You're trying to make changes where changes actually can be made."
As his students discussed their projects, Galano offered observations. Concerning the women struggling at Avalon, he remarked, "Years ago, we treated these people for anxiety and depression and asked, 'What's wrong with them? Why aren't they leaving these abusive situations?' They say it takes a village to raise a child; it takes a village to help an abused woman back into society." After Treseler described the campus alcohol screening, Galano suggested that "the perception of alcohol use was astronomical compared with the actual use. Students perceived that 40 percent of their friends were binge drinking, and the actual number was 4 percent. That's a risk factor. When young people perceive everyone is doing something, there is social facilitation," he said.
During the reporting session, he also answered concerns about burnout among service providers. With their agencies chronically understaffed and underbudgeted, the toll on the emotional health of providers can become significant, he admitted to the students, most of whom had become keenly aware of the budget and staffing realities. However, Galano pointed to a recent study conducted in Chesterfield County in Virginia that indicated that burnout among clinical psychologists tended to be greater than among those working in community programs.
Contacted separately, Lisa Thomas, who participated in a practicum in 1978, agreed that the stresses are outweighed by the positive results experienced as a community psychologist. When she was one of Galano's students, she worked in childhood intervention at Eastern State Hospital at the time when the concept of housing patients in the facility was first being scrutinized in light of a move toward community-focused psychology. "Although Galano did not lead the movement—it was just beginning about the time he came to William and Mary—he certainly was among the first to embrace it," Thomas said. Now as the interim director of Child Development Resources, she is among the leaders of area service agencies who benefit from the students Galano sends. "They make valuable contributions to our work, and they get to see the types of results that can be realized when you are working upstream," she said.
For Hagan, the fact that she celebrated with one former victim of domestic violence who had established a new home was all the validation that was needed. Bradley perhaps best summed up the rewards from the semester of service. "When guys I had treated did not go back to jail, everyone in the program was so proud," she said. "Knowing that you are doing something in your job that makes a real difference in people's lives every day—not much can be more rewarding than that."