Five years later: Campus remembers 9/11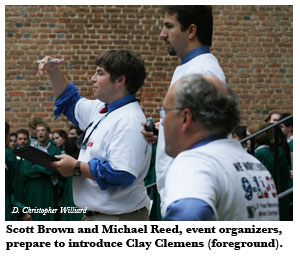 On Sept. 11, William and Mary joined the nation in reflecting upon the terrorist attacks of 2001. In the Sunken Gardens, 3,000 U.S. flags were planted; along the walkways, luminaries with the names of victims were lit; in the Wren Courtyard, stories about the seven alumni of the College who perished in New York's World Trade Center (WTC) were shared, bringing the tragedy once again close to home.
Clay Clemens, professor of government, spoke about James Reilly ('98) and Gregory Trost ('97), former students who worked together on the 89th floor of the South Tower. He recalled how, on Sept 11, 2001, "those who knew Jim and Greg started exchanging e-mail messages expressing uneasiness, growing dread and finally heartbreak as it became clear that neither of them had made it out.
"Rarely had such pain been so palpable in something as dry and impersonal as e-mail," Clemens said.
As he and other speakers remembered each of the fallen alumni, terms successively used included "book smart, people brilliant," "the human jukebox," the "center of a group of friends," "a person who "loved to give," a person who "lived an extraordinary life," a person with a "smile that would light up the room," a "life-long friend" and a rugby player with the "ability to make friends with everyone he met." The warm recollections brought tears to the eyes of many who listened; they left the audience with an acute sense of what had been lost.
Again, it was Clemens who best summed up the magnitude of loss. He said, "Among all their other crimes, the twisted men who caused 9/11 were also thieves. They had stolen light from the lives of several hundred thousand people who had loved their victims very much."
If there is solace to be found in the deaths, Clemens continued, it is in the hope that the "love, friendship, loyalty, enthusiasm, humor, integrity, spontanaeity, selflessness, courage and open-mindedness" they embodied "would ultimately prevail over the calculating hate that killed them."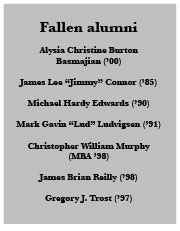 The College's September 11th Memorial Ceremony was a campuswide event organized by seniors Scott Brown and Michael Reed, who are serving as fellows for the Foundation for the Defense of Democracy this year. Among other groups, participants included the Muslim Student Association, the Middle Eastern Cultural Association (MECA) and Campus Ministries United, along with the Student Assembly and both the Republican and Democratic organizations on campus.
The ceremony opened with a presentation of colors by the College's Queen's Guard. A rendition of the "Star Spangled Banner" by the William and Mary Choir and a recitation of the "Pledge of Allegiance" led by members of the Student Assembly followed. Interfaith prayers and remarks were then offered, followed by statements from Nadim Bawalsa, president of MECA, Sam Sadler, vice president for student affairs, and Christine Daya, representing the College's International Relations Club. Statements by Gene Nichol, president of the College, helped close the event. As they left, many of those who had gathered signed "We Remember" banners, which will be sent to memorial sites in New York City, at the Pentagon and in Shanksville, PA.
Throughout the ceremony, speakers reiterated the importance of remembering the terrorist attacks of September 11, 2001. They urged listeners to work toward peace through engagement with and understanding of peoples of faiths and cultures that differ from their own. Several pointed toward education as a key to a more stable world. Often, the College's own commitment to diversity was referenced as speakers drew upon cross-cultural insights from classes and from classmates on campus. Daya, who spoke of a percieved deterioration in commuication and agreement among global powers during the five years since the 9/11 attacks, said that her classmates could help reverse that trend.
"The future of international relations relies upon our generation," she said. "We must apply our knowledge and experiences abroad to enhance the conditions of the global community by showing the rest of the world that we want to engage in dialogue with them. It is the key to securing our safety and to preventing further atrocities on American soil that target innocent civilians."
The importance of remembering was underscored by Sadler, who urged those gathered to "forgive" but not "forget." He said, "As we stand here together in remembrance of 9/11, let our voices ring strong and true and clear with determination to take what we learn and share here about community and about its ability to transcend difference, and what we experience through service, with all of its potential to alleviate suffering and injustice, out into a world still badly in need of the power of our example. In honor of those we remember tonight, let this be our memorial."
For the community, the memorial event was sobering even as it was uplifting. Afterward, several people commented upon how important is was to find
that their own conflicting feelings were shared by others. Many commented that the ringing of the Wren bells earlier in the day at the times of the jetliner impacts against their targets had put them in a reflective mood. In contrast, senior Kristen Simonsen commented, "The helicopter fly-by during that weird 10 minutes [of the ceremony] was rather off-putting—sort of a reminder of how increased security has become." At the same time, she said, "What moved me most was Professor Clemens talking about the students he knew. I didn't even know those guys and I was tearing up a little."
Student Assembly senators Zach Pilchen ('09) and Will Coggin ('07), who helped lead the Pledge of Allegiance during the ceremony, found the entire event to be respectful and appropriate.
"With all the political parties scrambling for moral high ground after 9/11," Pilchen said, "it was nice to have an apolitical day of peace where we could all just pay the victims our respect."
Coggin said, "Saying the pledge made me feel like one among other Americans—united—like the feelings I had after 9/11."
Fanchon Glover, director of multicultural affairs at the College, had read "Carry on!" by Canadian poet Robert Service during the ceremony. After the event, she observed a broad range of emotions.
"Everyone was somewhat somber," she said. "They were returning their candles, or embracing one another as they walked back through the luminaries. It was an uplifting but sobering thing. It was good to have some of the humorous stories about the alums--that was good to have. That means a lot to hear the words about people who were part of our community."
Glover continued, "I think the ceremony was great way for our campus community to come together and remember our alums who were lost that day but also to reflect on how we as a campus community move on. I think we can't forget what has happened. But, even if it's only one day at a time, we have to go forward."