Family Weekend: Tribe parents stay connected
Although they were presented with a rich array of about 45 events to choose from, the nearly 1,400 parents of William and Mary students who arrived on campus for Family Weekend, Sept. 29-Oct. 1, had one thing on their minds: to stay connected with the adventures of their offspring.
"Why did I come? I came to spend time with my daughter," James Bullock, father of freshman Christina Bullock, said. "I want to do all those other things that are offered, but it's most important just to be here with my daughter."
Ed Sharp, father of freshman Tildi Sharp, said, "There's lots of other things we could do at home on such a beautiful weekend, but what could be better than coming to see our daughter? It's all about Tildi. It's about making sure that she is happy, that she's settled in and is well." Chand Patel said, "Obviously we're looking forward to seeing our son, [Nishant]. We miss him more than he misses us, which is natural. We just wanted to check up to see that he is doing OK." Added John Wakeman-Linn, whose daughter Mary had given him and his wife, Julie, a tour of her favorite hangouts, said, "We like to spend time on campus. That way, when she is telling us stories, we have a better sense of where she is and what is going on."
Said Cheryl Lepore, whose twin daughters Adrienne and Roxanne enrolled this semester, "We are here to see the kids, to show solidarity with the young, to show our kids that we haven't forgotten them."
It was not that the students had failed to keep in touch with their parents or that there was any chance of parents forgetting their children. Many parents reported receiving phone calls or e-mail messages from their children every week. For the most part, the reports seem to be favorable. Ina Koppel reported that she hears from her daughter, Rebecca, at least twice a day as the student is walking between classes. "We got free mobile-to-mobile service; we had to do that," she said. Julie Wakeman-Linn said that her daughter Mary calls them or writes an e-mail almost daily. "Then there's the event-of-the-week phone call," she said. "A very positive one was about the first paper coming back with a very high grade on it; the week before it was 'the physics problem-sets are not my friend,'" she said.
Said Lepore, "One piece of news we were told is that Roxanne actually became vice president of the class for advocacy, so she's pretty excited. I got an e-mail from Roxanne that said, 'I am so excited beyond words. I'm actually enthralled with the College.'"
Among the events offered during Family Weekend were lectures by professors, music performances by many of the College's choirs and ensembles, a golf tournament, a lantern tour, a street fair and sports events, including soccer, field hockey and football matches. Many of the parents also took advantage of the opportunity to hear Gene Nichol, president of the College, during a Saturday morning session.
Among other comments, the president told them, "Your daughters and sons have enlisted into one of the nation's most remarkable institutions—literal birthplace of a new world's political philosophy, [birthplace of] ideas that not only changed this country and the commonwealth but have become the most powerful force for progress in the world."
Speaking about what the College could do for its students, he continued, "Over the centuries, this College has lifted the sights, emboldened the spirits, honed the skills, pressed the imaginations, fashioned the characters and opened the hearts of generations of the most gifted young Americans." Indicating their own sons and daughters, Nichol said, "That tradition continues this day." He thanked the parents "for entrusting your greatest gift—your daughters, your sons—to us."
After the president's remarks, Ken and Karen DeFontes, chairs of the William and Mary Parents Association, presented the College with a check for $372,849.29 from the 2006 Parents Fund Campaign. Afterward, senior Amanda Nixon ('07) and junior Patrick Donaldson, who, as event co-chairs, organized the more than 40 student volunteers who helped to facilitate the activities, commented on the significance of that unrestricted gift. "Those gifts really are important," Nixon said. "They fund service trips; they funded the pianos in the new dorm, a new campus golf cart to serve as an escort vehicle. We couldn't do many of the things we do as students without that support."
Donaldson connected the Family Weekend with opportunities for parents to continue their contributions to the College. "We call it 'insight weekend,'" he said. "Parents can go to classes with you, follow you around, walk in and out of your buildings. They just get insight into everything we do here. At events like this, we try to show them different ways they can keep up their involvement."
Nixon added, "We are just giving parents an opportunity to experience the community that we are. It keeps them from being marginalized from the community; it gives them a glimpse."
Conspicuous on Saturday morning were the numbers of parents walking around without their sons or daughters."I don't even think we'll see our daughter except for a couple of hours each day," said Ina Koppel. "She is so busy. She was in a concert last night and will be in another tonight, and she has to work on a paper today." In fact, Ina and her husband, Dean, had been given instructions not to "disturb" their daughter until 11:30 a.m.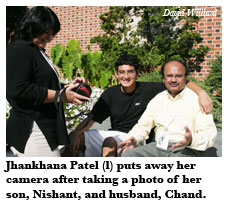 Students who were with their parents insisted, however, that having them as company did nothing to change their college lifestyles. Said Tildi Sharp, "I haven't seen my parents in five weeks, which is the longest I've ever not seen them. I missed them a little bit." She added that since she has 9 a.m. classes, she wakes up at 8 a.m. as a matter of course. Freshman Mary Wakeman-Linn said that she did not even clean up her room because her parents were coming. Nishant Patel, on the other hand, admitted that he "did a quick clean earlier in the morning." Senior Liz Anthony, whose parents were attending the event for the third time, said, "Having parents come back does not crimp my style at all. I enjoy Family Day. I get to show off what I do. It's fun to be able to show them around."
Meanwhile, the parents who were unaccompanied by their children continued to make themselves at home on the campus by enjoying the various activities, from picnic luncheons and lectures, or simply by walking around and exploring the various facilities.
The Koppels were particularly impressed with the amount of energy that went into staging the weekend. They talked about how the College treats parents differently than does the school their older daughter attends.
"We went there and it was kind of drop her off, wave and go home," Ina Koppel said. "We came here and there was this whole orientation program. We were surprised at how much parents were involved here."
"There is more family involvement here," Dean Koppel said. "It keeps you in touch. It helps keep you grounded with what your child is doing, and it helps keep the child grounded because she knows that parents are going to be walking around, talking with faculty and staff and getting a sense of what is going on."
Find out about opportunities for family giving at the College.