Environmentalists in the Boardroom
Promising new tactics in the government's attempts to reign in environmental polluters are no substitute for tough enforcement of existing regulations, Sarah Stafford, associate professor of economics at the College, said during the College's Distinguished Faculty Lecture titled "Environmentalists in the Boardroom" on Oct. 8.
"Government regulation, not voluntary corporate action, is responsible for the lion's share of the significant increase in environmental quality that we have seen over the past 30 years," Stafford told her audience. "For example, the average car emits over 90 percent less pollution per mile today than the average car in 1970. This is due to the Clean Air Act and the amendments to that act, not due to automakers. In fact automakers have fought the Clean Air Act at every turn, just as they are currently fighting efforts to increase fuel efficiency standards."
Stafford, who has worked as a consultant for the Environmental Protection Agency (EPA), made three key points during her lecture. First, because companies do not violate regulations for the same reasons, traditional deterrence strategies have limits, she said. Second, due to increasing public concern about the environment, companies that work to protect it can profit in the long run. Third, public policies that complement existing deterrence approaches do help, she said.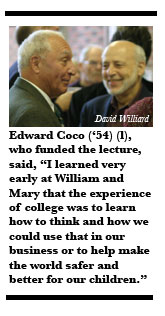 Stafford highlighted elements of her own research involving hazardous-waste regulations. One of her studies focused on whether companies would alter their behaviors in response to increased penalities. In 1990, the EPA increased by 10-to-20 times the value of fines associated with hazardous-waste violations, a move that prompted William Frank, special assistant in the EPA's enforcement office to declare, "In the past, some companies considered [hazardous-waste] fines to be the cost of doing business, but they won't anymore." By examining compliance behavior before and after the change, Stafford discovered that although some of the penalties increased 10-fold the increase in compliance was only 10 percent to 20 percent.
Another study Stafford conducted involved determining whether companies that failed to comply with hazardous-waste regulations did so due to willfulness or due to confusion about the requirements themselves. After examining data from approximately 13,000 facilities classified by the EPA as large-quantity generators of hazardous waste, she determined that "both rationality and confusion" cause noncompliance, regardless whether the company is large or small or whether it has numerous environmental issues or just a few. Those results suggest, she said, that maximizing compliance requires better ways of communicating regulatory policies.
Stafford devoted much of her talk to changes involving the EPA's relationship with corporations. She said that the EPA was becoming less adversarial and more partner-based, a atrategy it has been able to promote as businesses face greater penalties from civil verdicts and as companies discover that being perceived as environmentally friendly can increase profits. The EPA supports this latter concept by offering positive publicity through its Energy Star program, among others, that define products and practices designed to save energy. "Unfortunately, to date, there is relatively limited evidence on the effectiveness of such programs," Stafford said. "At the same time, it is clear that not all of them will have significant environmental impacts." She also suggested that some businesses may employ such designations with no intent of becoming more environmentally conscious, a practice she referred to as "greenwashing."
Stafford noted the recent EPA practice of offering companies limited immunity in return for undertaking voluntary enviromental audits has proved to be partially successful. She said, "in fiscal year 2005, a record number of companies—627—voluntarily disclosed violations to the EPA, a 28 percent increase compared to fiscal year 2004. EPA estimates that audits conducted in 2005 resulted in a reduction of 1.9 million pounds of pollutants."
In concluding her lecture, Stafford talked about the necessity of encouraging businesses to be environmentally conscious while keeping in force appropriate regulatory sanctions. 
"There is obviously an important role for public policies that focus on cooperation and promoting environmental stewardship," she said, "particularly, if we want to move beyond compliance to a world in which there are environmentalists in every boardroom making responsible corporate decisions."
However, she closed her lecture by reiterating that "it is crucial that we continue to mandate some environmental responsibilities and enforce existing regulations through surprise inspections and civil and criminal penalites."