Desmond Tutu's commencement remarks
Following is a transcript of the remarks made by Archbishop Desmond Tutu during the College's 2006 commencement ceremony. —Ed.
Thank you so very much. Thank you, Mr. President, Madam Chancellor, for the great honor of addressing this Commencement. Madam Chancellor, how wonderful to share in your first Commencement as Chancellor after your very distinguished career in the Supreme Court.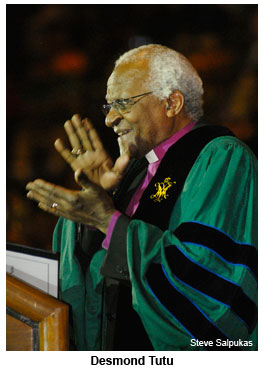 A few years ago I was in Atlanta on the local train, the MARTA, minding my own business as I always do, and somebody thought they recognized me. And so a few people came along and asked for autographs and I was signing autographs trying to look suitably modest and then somebody came up. A woman came up with a piece of paper and shoved it under my nose, and as I was signing, she said, "Who is he?" And I thought that that was very good for the soul.
Mr. President, it's also a great joy and privilege to be sharing with you in your first Commencement after a scintillating career as a civil rights and human rights lawyer and a splendid law school teacher. And may I also add my own tribute to Susan Magill, who is stepping down as rector, a much loved, much admired officer of this wonderful College.
And I, too, would like to say Happy Mother's Day to the mothers here, and everywhere. Maybe we should give them another clap, don't you think?
I've not yet discovered the reason why students who have done splendidly well on their exams and their parents and friends should be subjected to the agony—the torture—of a commencement address. I agree entirely with those many of you who are saying, "Oh, dear man, cut the cackle and let's get on with the real business of this afternoon," which is, quite rightly, to come and celebrate the tremendous success of all of you, Class of 2006.
If I acted according to my belief I would sit down now; but I've come 10,000 miles and so I'm afraid we are going to be masochists for just a little while longer and put off the celebrations. But we do want to congratulate you most warmly on your splendid success, and I know you are going to be getting many accolades. But how about giving them a real humdinger of a clap just now?
But I know that you yourselves would want to demonstrate publicly—you who are graduating—your deep appreciation for the support your president has referred to, from your parents, from your sisters and brothers, from your relatives, from partners and spouses, and just you, who are graduating. How about really giving a warm take-the-roof-off clap to those we've mentioned.

I think, too, you might just be saying, "Well, maybe we do want to clap for our teachers," some of whom are maybe just a little bemused that some of their students have made it.

I have to be very careful about this because once I said to a group of young people in Australia, "The trouble with us is we don't celebrate who we are. How about giving ourselves a warm hand?" And they did. And then I said, "How about giving God a standing ovation?" And they really took the roof off. And when they finished, without thinking, I said, "Thank you."

One day a man was traveling through the countryside and he came upon a farmer who was surveying his fields of lush corn swaying in the breeze. And the traveler stopped by the farmer and he said, "Gee, man. What a super job you and God have done. I mean, just look at this wonderful field." And the farmer kept quiet for a little while, and then after puffing on his pipe, he said, "You should have seen what it looked like when God had it all to himself."

We have an extraordinary God. An omnipotent God who, by definition, can have done any and every thing that God set God's mind to doing. But in an extraordinary kind of paradox this all-powerful one has down the ages seemed to seek the cooperation, the collaboration, of frail impotent human creatures—for those to become God's partners. And God is prepared to jeopardize whatever project is in God's mind by this, an equal joining of the divine and the human.

And so when there is injustice and oppression and ghastliness all over the world, God doesn't usually send lightning bolts to strike down the perpetrators of this injustice, of this oppression, of this ghastliness. No, God waits on those who are God's partners so that they are the ones who can galvanize others to change the awfulness of injustice and oppression to their glorious opposites. And so you get a Martin Luther King, Jr. heading up the civil rights movement. Or you have a Nelson Mandela helping to topple the awful system of injustice in South Africa. And so these who are God's partners help to change all of the aridities around into this glorious garden, blooming with justice and goodness.

And so God waits on us—on you—to be God's partners. So when God sees someone hungry, God wants to perform the miracle of feeding that hungry person, but it won't usually be by hamburgers floating down from heaven. If that hungry person is to be fed, it will be because you, and you, and you, and you, and you, and all of us have said, "God, I want to be your partner. I want to be your collaborator. I want to be your fellow worker so that you and I accomplish this splendid job of work."

When someone is naked, God wants to perform the miracle of clothing that naked one. And it isn't normal that you see a Carducci suit drop from heaven. If that naked person is to be clothed, then it is that you, and you, and you, and you and I agree to be God's partners.

Extraordinary. It has seemed that God has had a bias towards the use of young people particularly. In the Biblical history you see a Joseph, the last born, helping a family in times of famine. A David, the last born, fighting and overcoming the champion of the enemies of his people. A Jeremiah who complains to God and says, "I'm too young to become a prophet." And God says, "Jeremiah, before I formed you in the womb I knew you. You are not an afterthought, Jeremiah. You're not an accident."

And God is saying that same assertion—incredible assertion—to you. That you are not an accident.

Some of us might look like accidents, but I mean, none of us is an accident. That you are a glorious part of God's plan from all eternity. And how wonderfully young people in this country have responded to this challenge, to this call from God.

I think of how young people (but not they exclusively) demonstrated because they were appalled by the injustice of the war in Vietnam. They protested, and this country realized it would have to get out of Vietnam.

When we were struggling against the viciousness of apartheid, it was young people, not they exclusively, but young people particularly, young people at college campuses who accomplished something that was unthinkable—they changed the moral climate in this country so that Congress passed the anti-apartheid sanctions legislation. They passed it against the wishes of the president, and they mustered a presidential veto override. And we want to say a very big thank you to those who were so involved in that struggle so that today we speak of a South Africa that is free; a South Africa that is democratic; a South Africa that is non-racial; a South Africa that is non-sexist.

And it was because young people like yourselves were quite clear that they were part of God's plan. That they, too, would want to change the deserts—the aridities—of injustice and oppression so that there would be this blooming, glorious garden that is a new South Africa.

There are young people who go out from this land as members of the Peace Corps and work in remote villages with no banner headlines for the kinds of things that they do, going as those who represent God.

And I hear that in this College, the students have often gone into the communities and done over 300,000 hours of community work. Now that is superb. And God rubs God's hands in appreciation. And that is not too bad even if I have to say so, and God is thrilled.

There is a young man here, a George Srour, who started an incredible thing in Uganda, Building Tomorrow. And he's built a three-storied school with contributions from yourselves.

God says you young people, you're just fabulous. You are in the forefront of the campaign to make poverty history. You are part of the exhilarating movements for peace. You are amongst those who demonstrated against the war in Iraq. Give peace a chance. Give peace a chance.

God weeps when God sees the kinds of things that you and I inflict on one another. God weeps when God sees a holocaust over there, a genocide in Rwanda, in Darfur, in Zimbabwe, in Sri Lanka, in the Middle East, in Northern Ireland. And God says sometimes, "What ever got in my head to create that lot?"

God weeps when God looks and sees how we can spend billions on budgets of death and destruction when we know that a very small fraction of those budgets would ensure that God's children everywhere had enough to eat, had clean water to drink, could afford a good education.

God says to you, especially to you young people: "I believe in you. Please help me. Please help me so that we can turn this world into a more compassionate and caring world—a more gentle world.

"I believe in you. Dream with me. Don't allow the oldies to make cynics of you. Please help me so that we have a world where children know that they will grow up playing, enjoying being young and not children becoming child soldiers, children abused as sex slaves, children used as child labor.

"Please help me," says God. "Please help me to form a world where women are respected as equals. Please, please, please, I have no one except yourself. Help me to form a world where people won't be discriminated against just on the basis of a biological irrelevance—skin color.

"Help me. Help me make this world one way. It will be hospitable to peace. We will know war no more.

"Please help me, help me so that we form a world where gay and lesbian are not treated as if they were half-human.

"Help me realize my dream. My dream is that one day my children will wake up and realize that they are members of one family."

For, indeed, we will not win the so-called war against terror as long as there are conditions in many parts of the world which make God's children desperate. We won't win. No.

And God says, "Please help me. Because you see, you can be human only together. You can be prosperous only together. You can be safe and secure only together. And I believe in you."