College's writer-in-residence dissatisfied with Hollywood's treatment of "The Evidence"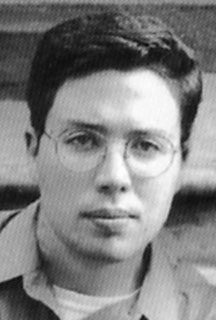 Several years ago, Ian Caldwell
and his lifelong friend Dustin Thomason bet each other that they could write a marketable novel. The result was The Rule of Four, a book that earned a place on the New York Times' bestseller's list in 2004. Eighteen months ago, they wagered that they could write a prime-time television series. When "The Evidence" premieres on ABC television this month, the pair will be two for two.
Currently Caldwell is serving as the College's 2006 writer-in-residence, where he has been leading fiction seminars one-on-one with students. After the frenetic West Coast "learning experience" of the past year, he relishes the quieter environment. Describing that experience during a recent public lecture, Caldwell explained how he and his co-writers sold their new-formula investigative cop series to television producers only to discover that those producers were clinging to the formula they had. Summarizing several points in the subsequent development process, Caldwell could only say, "We were getting jerked around."

The new formula that the writing team took to Hollywood seems simple in retrospect: Shift the common protagonist-centered script toward an audience-centered experience by presenting pieces of evidence at the opening of each episode. As each item of evidence appears in subsequent footage, audience members would be involved—manipulated down blind alleys, at times—in solving the featured crime.The actual product the writers pitched to the networks involved "a young police officer who was convinced that understanding evidence is key to understanding crime" and a "near-retirement age medical examiner who sees the human angle of the crime." It was to be set in a gritty Bronx. Its characters were to be dressed in real-life garb. The product was to have artistic merit. As the writers outlined their hopes to the ABC development team, its members "nodded wisely," Caldwell recalled. "Then they laid out the ground rules."

The "West Coast lessons," or ground rules, included admonitions that "we don't want to see poor people" and "we want to see glamorous people in glamorous jobs." As the development team modified the concept, they chose to move the location from the Bronx to the more up-scale San Francisco and they, decided that the medical examiner, Solomon Gold, needed to be younger. "We are making money by selling to advertisers," they explained. "We're not buying the old guy." Throughout the process, other modifications were made, including smothering doses of sensationalism and transparent uses of foreshadowing, leaving Caldwell with a "dismal creative feeling."

Compared to the process of writing a novel, developing a television script means "the number of chefs in the kitchen is much greater," Caldwell summarized for the audience. Anticipating the airing of the pilot, he hoped to keep some distance between himself and the final product.

Caldwell came to William and Mary as writer-in-residence never having participated in an undergraduate writing seminar. His idea was to "create a classroom environment that was fun, unpretentious and brutally honest," he explained during a recent interview. A few weeks into the semester, he modified his expectations. "I've tried to encourage brazen heartlessness, but the students here are too nice, so I've settled for compassionate honesty," he said. He also discovered that teaching group seminars was not effective because the students are working on dramatically different kinds of fiction, so he began conducting his sessions one on one.

Reflecting on his own leap from college undergraduate at Princeton to best-selling author, he said that after graduation he was anticipating either entering graduate school or the working world and Thomason was considering enrolling in medical school when the two made their wager about writing a publishable novel. "We were both afraid that within a year or two we would have forgotten that we had the freedom to choose the direction of our lives," he said. "The wager we made ourselves back then, and the wager we made more recently [concerning the television series], had the same source: We don't want to forget our creative freedom. It's not a game; it's a defense against complacency or inertia."

Likewise, Caldwell's talk about "The Evidence" during the recent campus event, which initially was billed as a reading from The Rule of Four, was a reaction against inertia.

"Dusty and I spent several months on book tour, and the story was always the same—two young guys, childhood best fiends, co-writing a novel that against all odds becomes a big bestseller," Caldwell explained. "There was an authentic aw-shucks, just-folks quality to our talks for the first few weeks. But what was an innocent, honest peformance in May started to seem a little disingenuous when we were still doing it in October."

At present, Caldwell is working on a second novel. As is The Rule of Four, it will be an historical thriller. He also is keeping busy at home in Newport News, Va., where he and his wife our caring for their first child: a son born a month before his first seminar.
Looking ahead, however, there are bound to be more bets.

"In the future, as wager-making goes, we would like to move from TV to movies. We also have some interests outside of art that I hope we'll be bold enough to try when the time comes," Caldwell said.