College hosts annual Jamestown-Lafayette game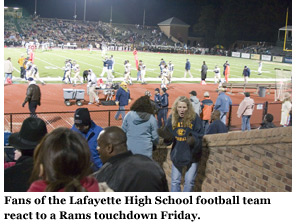 An era in local high school athletics ended on Friday, Nov. 3 as Walter J. Zable Stadium hosted the annual football matchup between Jamestown and Lafayette, the two high schools in the Williamsburg-James City County school district.
The rivalries in the WJCC district will become more complicated next year with the addition of a third high school, Warhill High. Also next year, a new stadium under construction will replace venerable Cooley Field, behind James Blair Middle School. The Nov. 3 contest was a Jamestown home game and Tom Dolan, athletic director at Jamestown High, had the idea of playing out the rivalry at William and Mary's stadium.
"The site that we usually use is Cooley Field and while it's been functional for us, it just doesn't handle this particular game very well," Dolan said. "The seating arrangement isn't conducive to seeing the game. There's usually a lot of people standing four and five people deep along the sidelines. The parking is not good, because we're parking on unmarked fields. It also seemed like an opportunity to give some high school kids an opportunity that they're going to remember for a long, long time."
Dolan put his request to Rob Dunn, assistant athletic director for facilities at William and Mary. Dolan said he had worked with Dunn on some other athletic events held at William and Mary venues. "Rob's always been the guy I've gone through. He ran it by all the people who needed to say yes and that's how we got the facility," Dolan said. Dolan's counterpart at Lafayette, Dan Barner, pointed out that playing a game at Zable will give athletes returning next year a feel for the district's new facilities, now under construction.
"Our new stadium will have the same kind of surface that the William and Mary field has now, the artificial turf," Barner said. "We played the old rug-type artificial surface in state championships twice out at Liberty, but it's going to be the first time on artificial surface for this group."
Both athletic directors agreed that the teams were excited at the prospect of playing in Zable.
"We have playoff hopes on the line—it's a big game," Barner said, hours before the opening kickoff. "The Lafayette kids are excited. It's nice for them to play on that kind of field at William and Mary. It's fun for the kids,"
Dolan agreed, saying, "Our kids are really excited. They are very excited about the opportunity to play there. I'm very excited myself because it's going to be the first time that Jamestown and Lafayette have played that everyone will be able to get a good seat and be able to see the game and enjoy it for the event that it is. To me it's the ideal thing to do."
There was plenty of room in the stands for both Lafayette fans and Jamestown supporters and they all had good seats for the game. Lafayette won, 55-20. An announcement from the play-by-play booth thanking William and Mary for hosting the game was met by hearty cheers.
"Hosting an event like the Jamestown/Lafayette football game is a great opportunity for the Athletics Department to give back to our local community," said Terry Driscoll, director of athletics at William and Mary. "We appreciate all the Williamsburg area has done to support Tribe athletics and, when scheduling allows, bringing these types of contests to our campus is one way we can contribute back. My hope is that opening our facilities to the area's various youth programs gives both the athletes and their families the opportunity to experience the competitions in a first-class environment."