Message on the passing of Royce Warner Chesser
William & Mary Provost Michael Halleran sent the following message to the campus community on Aug. 26, 2013 - Ed.
Dear William & Mary Community,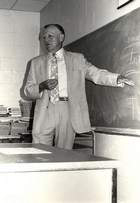 I write with great sadness to share the news that Royce Warner Chesser, Professor of Education, Emeritus, died on August 16.
Royce Chesser received his B.A. from Wake Forest College and his M.Ed. from the College of William & Mary.  He had a long career in education as an English teacher at Atlantic High School and served as principal of Bloxom High School.  He held supervisory positions in the Accomack County school system and ultimately served for five years as school superintendent.
After being on the summer faculty for a number of years, Professor Chesser began his full-time career at William & Mary in 1962.  Students and colleagues offer the following memories of Professor Chesser:
"As my professor, Mr. Chesser had a profound impact on me personally and professionally.  He not only taught me a tremendous amount about the science of teaching but he also instilled in me the belief that I would be a gifted teacher and could teach any child. His high academic expectations coupled with his encouragement and genuine interest made him loved and respected by his students. He was the ultimate gentleman and role model, and I shall never forget him."
Dr. Jo Lynne Stancil DeMary '68, Ed.D. '82
Virginia Superintendent of Public Instruction, 2000-2006
"Professor Chesser was a leading person in terms of knowledge of serving as superintendents in Virginia.  He was a highly respected, quiet man; I have very good memories of him."
Professor Emeritus Robert J. Hanny
"Professor Chesser was certainly a valuable member of the William & Mary faculty as he represented the true values of the College and I considered him a true friend."
Professor Emeritus S. Stuart Flanagan
Following his retirement from William & Mary in 1983, Professor Chesser continued his service to education by supervising student teachers for Salisbury University and Old Dominion University.
Professor Chesser was a lifelong member and Deacon of Atlantic Baptist Church.  A long-time Sunday School teacher, he taught his class for the last time just one month prior to his death.  Funeral services were held at the church on August 20.  Memorial contributions made be made to Atlantic Baptist Church, c/o Audrey Furness, Treasurer, 33190 Taylor Farm Road, Temperanceville, VA  23442.
Michael R. Halleran
Provost