Message on the passing of John F. Lavach
Provost Michael R. Halleran sent the following message to the campus community on Sept. 5 - Ed.
Dear Colleagues,
I write with great sadness to share the news that John F. Lavach, Professor of Education, died unexpectedly on August 30.  He joined the William & Mary faculty in 1967 as an assistant professor and served the College with distinction for 45 years.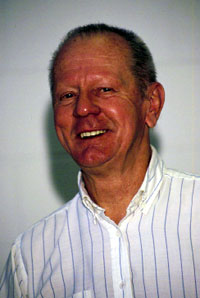 Professor Lavach was born in Teaneck, New Jersey, in 1936.  He served as a paratrooper with the U.S. Army's 82nd Airborne Division at Fort Bragg from 1956 through 1958 before earning his baccalaureate degree in biology from Montclair State University in 1961.  Professor Lavach taught biology in New Providence High School for four years.  He then completed an M.A. degree in psychology from Farleigh Dickenson University in 1965 and an Ed. D. in natural science from Duke University in 1967.  Aside from a one-year visiting faculty appointment at Colgate University, Professor Lavach devoted his entire academic career to the College of William & Mary.
Professor Lavach was a gifted teacher and loved being in the classroom.  For decades, his undergraduate course in child development was legendary.  A Flat Hat editorial in 1970 protested the limit of 150 students in Professor Lavach's class; many more wanted to take his course.  His stories and examples were so engaging that students only later realized how much they had learned—and retained—from his courses.  Professor Lavach was a favorite for Homecoming and Parents' Weekend lectures, Town and Gown series, and other presentations.  In the mid-1970s, Professor Lavach participated in a Raft Debate and won on behalf of educational psychology.  After earning his license in school psychology, Professor Lavach became a core member of the faculty for the master's and specialist programs in school psychology, where he taught courses in measurement and neuropsychology and supervised internships.  Professor Lavach received several prestigious awards for outstanding teaching, including the Alumni Faculty Fellowship in 1977 and the Graves Award in 1986.  In 1996, the Society of the Alumni presented Professor Lavach with the Faculty/ Staff Service Award. 
Professor Lavach was an active scholar throughout his career.  In 1969, he was awarded a National Science Foundation post-doctoral fellowship in experimental psychology at Williams College.  Just a few years after joining the faculty at William & Mary, he secured a grant from the Department of Health, Education and Welfare to examine the effects of emotional arousal on short and long-term memory.  In 1971, he participated in a study of preschool and child development centers in the Soviet Union.  His focus on development and learning continued with more attention to biological and neurological factors in recent decades.  He was most proud of his membership in the National Academy of Neuropsychology.  He published a number of articles on neuropsychological implications for workforce transitioning and the impact of traumatic brain injury on classroom functioning.  His recent work with William & Mary's Center for Excellence in Aging and Geriatric Research expanded his skills to assessment of cognitive functioning of individuals with dementia.  He was an outside evaluator for clinical drug trials related to Alzheimer's disease and was often called upon as an expert witness in cases involving neuropsychological functioning of students.  Professor Lavach was clearly dedicated to development across the life span.
A valued colleague in the School of Education, Professor Lavach served multiple times on nearly every standing committee, including the Faculty Executive, Faculty Evaluation, and Faculty Affairs committees.  His keen sense of humor and absolute trustworthiness endeared him to all.  When Professor Lavach was not in the School of Education, he was often riding his bike, flying his plane, playing music, ice climbing or working on antique cars.  He is survived by his loving wife of 50 years, Pat; son, Chris and wife, Noelle, and their children, Haley and Jackson Lavach; daughter, Kim Lavach and husband, Jim Gravgaard, and their children, Ally, Cate and Gigi Gravgaard; and siblings, Louis, Paul, and Loretta Lavach.
A memorial service will be held on Tuesday, September 25, at 11:00 a.m. in the Wren Chapel, followed by a reception in the Great Hall.  In lieu of flowers, memorial contributions may be made to the School of Education at the College of William & Mary, P.O. Box 1693, Williamsburg, VA 23187.  Please make checks payable to the College of William & Mary Foundation noted in memory of John Lavach.  Memorial gifts to the Heritage Humane Society, 430 Waller Mill Road, Williamsburg, VA 23185 are also encouraged. 
Sincerely,
Michael Halleran