Funeral service set for Professor Emeritus Eric Ayisi
A memorial service for Eric O. Ayisi, a William & Mary Professor Emeritus, will be held at 11 a.m. Saturday, July 17, at Cooke Brothers Funeral Chapel in Newport News, Va.
Ayisi died on June 14 at the Sentara Nursing and Rehabilitation Center in Hampton. He is survived by daughters Comfort Manteaw, Kathleen Barrett, and Ruth Ayisi, as well as a brother, Fred, a sister, Veronica, seven grandchildren and 14 great-grandchildren.
Ayisi, 84, was a native of Mampong, Ghana. He spent 15 years on the College faculty, teaching in the Anthropology and Government departments in the 1980s and 1990s, in addition to roles in the Office of the Provost.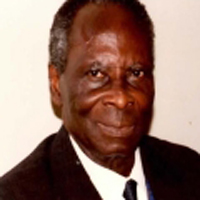 "He was always a bright light during our years at the College of William & Mary . . . dropping by the house with stories and ideas and being wonderful in fun with the children," former W&M President Thomas A. Graves wrote on Mr. Ayisi's memorial
guest book
in the Newport News Daily Press.
In addition to his carer at the College, Mr. Ayisi served as a Research Fellow at the Institute of African Studies, University of Ghana. He was named a Fulbright Professor in 1972.