W&M remembers former BOV member Frank Batten
Frank Batten, Sr., former chairman of Landmark Communications and longtime supporter of William & Mary, passed away Thursday morning after a prolonged illness.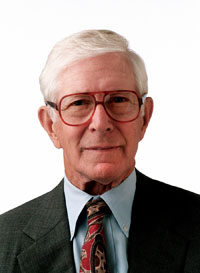 Mr. Batten served on the William & Mary Board of Visitors from 1990-1994.  He also was a member of the Business School Advisory Board, the Institute of Bill of Rights Law Board, and the National Campaign Steering Committee.
"We are distressed to learn of the death of Frank Batten, Sr.," said William & Mary President Taylor Reveley. "He was a giant in business and in the civic life of the Commonwealth.  Mr. Batten was a powerful friend of higher education, generously involved in the life of William & Mary, among many other colleges and universities. Frank was a member of our Board of Visitors from 1990-94. In 2006, we honored him with the Lord Botetourt Award, one of our highest honors for non-alumni members of the College community. We will miss Frank Batten enormously."
In recognition of his long-standing dedication to William and Mary, Mr. Batten was awarded an honorary Doctor of Laws at Charter Day in 1996, and in 2006, Mr. Batten was presented with the Lord Botetourt Award.  Over the years, Mr. Batten immeasurably enriched the life of the College through the creation of the Batten Foundation Undergraduate Research Scholarship and through support of untold other areasthe Mason School of Business notable among them. Here his generosity helped to remake the MBA program and to provide a striking new facility worthy of the Schools remarkable progress in recent years.
"It is impossible even to try to enumerate all of the ways our business school, our students, and all of us--most especially, me--have benefited from our association with him," said Larry Pulley, dean of the Mason School of Business. "With his passing, this area, this Commonwealth, and this nation have lost an individual of the sort that comes one's way only rarely in life, if at all.  We will miss him."
In addition to his wife, Jane, he is survived by his son, Frank Jr., and two daughters, Dorothy and Mary.