Budget update from President Reveley
William & Mary President Taylor Reveley sent the following message regarding the proposed state budget to faculty, staff and students on Dec. 22, 2009. - Ed.
Dear William & Mary Community,
     Last Friday Governor Kaine made his budget recommendations for the rest of this fiscal year and for the July 2010 to June 2012 biennium.   These recommendations now go to the Governor-elect and General Assembly.  They will change the Kaine proposals to one extent or another.  With this in mind, let's focus on the current fiscal year and leave the 2010-12 biennium to another day.  Until the new Governor and General Assembly act, we won't know much about this biennium except that the next few years will be very difficult for the state financially.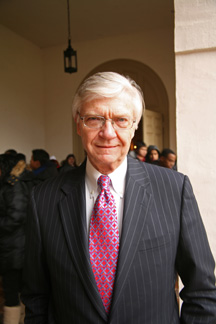 Governor Kaine proposed no further big budget cuts for higher education during the fiscal year ending June 30, 2010.  This good news is likely to hold.  Thus, we should be able to avoid any more layoffs during the rest of this fiscal year.  
     The Kaine recommendations still include one unpaid furlough day this fiscal year for everyone working at a state agency, including public colleges and universities.   The General Assembly could eliminate or increase the furlough. Time will tell.  
    Among the Kaine proposals is funding for Tucker Hall and ISC 3.  This funding is premised on the state's having sufficient debt capacity.  It does not now but will again, probably not this fiscal year.
     Governor Kaine's recommendations include no state funds for salary increases during the 2010-12 biennium, thus extending the current salary freeze for state employees.  The General Assembly may take a different approach, however, and salary increases at William & Mary are largely self-funded in any event. While I clearly cannot promise that W&M will have the funds for raises next fiscal year, I can promise that we will try hard.  
     Governor Kaine recommended that all state employees contribute toward their state retirement plan.  Even if the General Assembly and next Governor accept this proposal, the impact is not likely to be felt this fiscal year.
     Once we know something concrete about the 2010-12 biennium (that is Fiscal Years 2011 and 2012), I will report.  For the next few days, I plan to ignore budgets while enjoying the holidays. I hope you will too.  You have my warmest best wishes!  
Taylor Reveley