President Reveley's message on state budget (March 3)
William & Mary President Taylor Reveley sent the following message to the College community March 3 regarding the state budget. -Ed.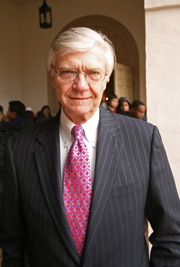 Dear William & Mary Community,
            The General Assembly session ended on Saturday. Thanks to federal stimulus money, state colleges and universities in Virginia fared better than expected. In short, the full force of the recession is being deferred. We will proceed with our fingers crossed that the economy revives before the federal largesse runs out.
            A memo from Sam Jones, vice president for finance, providing details can be found here. In brief:
The threatened reduction in the permissible ratio of out-of-state to in-state students did not occur, though the attempt got more legislative traction than ever before.
Using federal stimulus money, the state restored to us $3.8 million in operating funds for FY 2010, plus $660,000 for VIMS. These are "one time" funds, not part of our permanent base.
Partial funding for the Eminent Scholars program was restored.
$109,355 was provided for need-based financial aid for in-state students.
We were authorized to continue planning Phase Three of the Integrated Science Center and given partial funding to do it. (ISC 3 was one of only five projects in the state to receive such support.)
Taking federal stimulus funds carries with it an expectation that colleges and universities will "mitigate" tuition increases.
Due to continued decline in the state's revenues, no funds were provided to support salary increases, though the Commonwealth knows that this issue remains very much on our minds.
Against this background, we can now plan concretely for next fiscal year. As will be true throughout higher education, FY 2010 will be financially difficult. It remains our strong hope, however, that William & Mary can get through the year without layoffs on the main campus, furloughs, or salary reductions. We should also be able to hire on a limited basis.
To those who helped during the legislative session, thanks! The aid and comfort was crucial.
Taylor Reveley