Charter Day 2008: Nichol's prepared remarks
Following are the prepared remarks delivered by President Gene R. Nichol during the Charter Day 2008 ceremony on Feb. 9., 2008.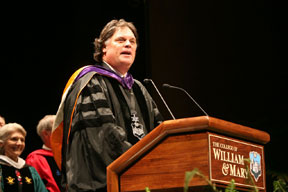 Thank you, Jim. Almost as moving as Maurene's efforts on this stage three weeks ago. Almost. If you think that's not a father's highest possible praise—I'd point out that Jim attended five of the six Pirates performances. And he called Patrice—from the Tribe's basketball game—during the intermission of the sixth. Almost as moving.

This isn't the first time I've heard Jim speak. He said, some months ago—in writing, even—that he'd do whatever his College asked. Folks, if you say that—you better mean it. He did. He's given a half dozen brilliantly received presentations to students, faculty, staff, and alumni since. This was the first Justice O'Connor has heard. Giving me the chance to say, in the presence of one I have long claimed as a hero, that I now have two. Doubtless I am not alone.

Each year we gather here to renew our founding and meaning and purpose. Turning for a moment from the gloom of Tidewater's winter, from the press of labs and exams and papers and reading lists whose breadth, some weeks into the semester, is just starting to take hold. Dean Broaddus has assured me that there are no prospective students with us today. I hope he's right.

Faculty arrayed under bright lights and in brighter colors. In the arms of a building whose name remembers one among our College's countless additions to the history of higher learning in America. With the name of one who will ever be our greatest contribution to country much on our lips—placing his imprimatur on our best teacher scholars: Jefferson. Beckoning those we've proudly sent out to return, calling forward those we still hold close. Hearing our Provost intone the marvelous words of the Charter. Thankful, always thankful, that he chose the academy instead of a career as a late night soul singer. I now think of Barry White's voice as "provostial."

Each year we gather to hear those resonant words. To remember, with the poet, that "leaves of one vine entwine us utterly / nourished by juices of a common earth." This year, in particular, the association blesses beyond measure.

We reflect on the career of Comey, pressing for the right despite any cost, in the most threatening neighborhoods of Richmond, or the even meaner streets of Washington. Grateful that, together with his neurosurgeon brother, Chris, Class of 1986, the family has finally come to something.

We embrace the talents of Rees, another son of the College, whose life's work has lifted both his alma mater and, in service to us all, the home and heart of Washington. Realizing, with pride, that from the irreplaceable vista from Mount Vernon's porch—you really can see all the way to Williamsburg.

We celebrate the friendship of Fulbright, whose example and name are forever attached to scores of William and Mary students and faculty. Providing life-altering experiences abroad and welcome leadership to our Reves Center for International Studies, just across Jamestown Road.

We marvel—we marvel—at the career of Holmes—and remember the odd thrill of hearing, as the roll is called on the first day of class, a profound analysis of our family history—with only a surname in evidence. And knowing, beyond knowing, that the journey has only begun.

We welcome into our ranks Prokhorov, and films and lives and lessons brought from half a world away. Telling us, showing us, that the distance is not half as great as we'd imagined.

We wonder at the career of Rastogi. Heads shaking, incredulously, as we speak for the first time, in one sentence, the words "perfect" and "physics" and "GRE." Glad that we're not among his advisors, and so called upon to invent wholly new superlatives, finding the old ones useless altogether.

We lift up the work of Chan, knowing full well that, on behalf of hundreds in a more tropical clime, we are merely returning the favor. To have brought a smile like hers to others is gift enough for a lifetime. But we eagerly await others still to come.

We honor the leadership of Meese—first in William and Mary's Class of 1986—today carrying the banner of a faculty more inspiring than any other in the nation.

We recognize, with surpassing gratitude, the powerful bonds holding Matthews and Burke and Hawthorne and Owens close to our hearts. Whether inspiring our runners every day on the paths of our campus, like Randy, or establishing prizes like today's Monroe recognition, like Patty, or supporting diversity programming like Linda, or providing key leadership on our Board and beyond, like Suzann—their love for the College calls us always to be better.

We call even still on the example of Graves—or, in our fortunate case, two Graveses—both continuing to press the mantle of leadership, decades on. Challenging their university, always, with boundless friendship and support, to newer and greater heights.

These women and men are, as our proceedings underscore, exceptional. However, here they are more. Not with us, or from us, but of us. We claim, immodestly, that they represent us well—parts of a whole we would not believe if we did not know it and live it. Women and men "acting," as it's written, "in the living present." Offering what Stephen Trachtenberg called, in an open letter to the next president of the United States — whoever he or she might be —"personal, visible, and frequent displays of love of learning, respect for scholarship, and an understanding of what professors and students do."

We live in the warm glow of their examples. Look to your left and right, look behind me, consider those not with us this morning. Look to those not in the headlines, those unheralded, unnoticed, unremarkable among the community we create anew with gifts of head and heart.

Look to the women and men of the William and Mary fencing team—only months past losing their beloved coach and teammate—dominating their regional championships this time last week—winning a dozen gold medals.

Look to Matt Taylor, a member of the Class of 2008 who wanted to join us but is—as we speak—being honored as Beta Theta Pi's most outstanding senior in the Northeast, never mind those at Columbia or Yale or MIT. Not a bad week for one who, on Wednesday, helped push the senior class gift over the remarkable $100,000 threshold.

Look to Ted Dintersmith, an alumnus, who through generous and innovative giving will next month create the first "Dintersmith Fellows"—supporting the mutually beneficial research so often taken up by undergraduates pursuing departmental honors and their faculty mentors.

Look to Jack Musick, a VIMS scholar of international renown—"a scholar who creates scholars," in Dean Wells' apt phrase—honored last week with the Commonwealth of Virginia's lifetime achievement in science award.

Look to Professor Musick's colleague Dennis Taylor, and his students Bert Cortina, Chelsea Estancona, and Andy Miller. They are, this morning, just a few hundred yards from us, on the banks of Lake Matoaka, bringing online William and Mary's very own biodiesel fuel plant. Taking up the mantles of research and service along with the grease produced by Williamsburg's finest fast food establishments. Helping put the "Green" in "Green & Gold."

Look to Debbie Hill, who retired this season after three decades of limitless contributions to Tribe volleyball and our broader community, and will be succeeded—naturally—by one of her former players, Melissa Aldrich Sheldon, Class of 1991. The Tribe she rejoins is immeasurably better for Coach Taylor's transformative efforts.

Look to Mark Ryan, an alumnus who, along with students and faculty gathered here this morning, and with the most committed unselfishness I've seen at close hand, has established a health services program of depth and wonder in the Dominican Republic. One that can find, however surprisingly, a place even for a university president to lend a hand.

We look to them all. And we arise. Returning today, as tradition holds, to foundational texts, and inspirational leaders, pulling them forward into a new century. Reflecting, as well, on those always pressing the claims of our unique calling. Fulfilling the charge of a great liberal arts research university in the twenty first century. They mark us, and lift us, and challenge us. They bid us consider Comey, and Rees, and Fulbright, and Holmes, and Prokhorov, and Chan, and Meese, and Taylor and Dintersmith and Musick and Hill and Ryan. And Jefferson. And Jefferson. To remember, with Berry, that here "all times are one / if hearts delight / in work, if hands / join the world right." They have joined their hearts and hands to the world. Making their mark. Calling us to consider our own. Inviting us to begin anew here, where one can make a difference —where we are all called, unmistakably — to make a difference, a difference that will last, inscribed upon each others' lives, now, tomorrow, and for all time coming.

Go Tribe. Hark Upon the Gale.