Student honored by local TV station
When Daniel Key got the Sharpe Community Scholars Program brochure in the mail before starting his freshman year at the College of William and Mary, he threw it away. He had been required to do community service in his private high school in Roanoke, Va., and, now that he was going to college, he didn't plan on making service a big part of his life.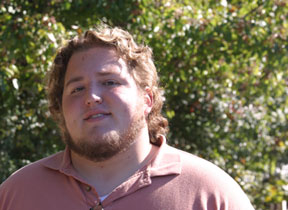 But after one spring break service trip and with encouragement from his roommate, Key became increasingly involved in the world of community service. So much so that Key was recently recognized by the area's highest-rated television news station.
Key was recently presented with a Jefferson Award for Public Service by NBC-affiliated news station WAVY-TV 10. The awards are a national recognition system honoring community and public service in America and are presented locally across the country by media partners to "ordinary people who do extraordinary things without expectation of recognition or reward," according the Jefferson Awards' Web site.
"Once in a while a student comes into my life and awakens me to new understanding, filling my heart with hope through their intense commitment to service," said Drew Stelljes, director of the College's Office of Student Volunteer Services. "Daniel inspires me to work harder so that more students become committed to service. He's left a footprint on my heart and on the hearts of countless community members."
Key, a senior and sociology major at the College, has worked with Housing Partnerships, Inc., Circle K International (now CKI), and the Service Leader Corps. Two summers ago, he went to Biloxi, Miss., to work with an organization focused on Hurricane Katrina relief. He has participated in three spring break service trips, including one earlier this year back to Biloxi, where he served as a co-leader. Over this past summer, Key worked for the Habitat for Humanity's Re-Store in Newport News on a Bionetics grant. He is a member of the Bequia Sunshine Project, which will take him on an international service trip to Bequia, a small island in the Caribbean.
"While many students dive into a particular cause or focus on a specific student organization, Daniel always amazes me with his true desire to simply help in any way that he can," said Lauren Grainger, assistant director of the Office of Student Volunteer Services. "That statement may sound odd, but if any service project or trip needs an extra volunteer, Daniel is always willing to help out. It doesn't matter if it's extremely last minute, or the project requires that he change his plans, he will be there."
Key also works as a community service leader and in the Office of Student Volunteer Services, maintaining the vehicles for all of the College's student organizations, providing fellow students information on volunteer opportunities, and generally helping out in any way he can.
"To me, Daniel serves as a symbol of what one person can do to impact others lives. His efforts epitomize the power of the 'ripple effect,' said Stelljes. Daniel's service involvement impacts many people directly. Yet, beyond the direct impact he inspires so many other young people to make a difference in the lives of others."
Key said that he is thankful for the Jefferson Award, but he is mainly just flattered that his Office of Student Volunteer Services colleagues thought enough of him to nominate him for it.
"I was just really touched that Drew thought to nominate me," he said. "To be able to work with somebody like that – I think that's part of the draw of service for me, the people that you work with."
Key said that his parents largely influenced his commitment to service by teaching him to look at the world critically and independently.
"I think naturally that leads to service of some kind," he said. "Not necessarily direct service or traditional service -- like building a house -- but lots of different types of service. Because I think if you look at the world critically, you can't not see the problems that are there all the time. And so, to me, there's a certain amount of what other choice is there."
Though he is yet sure what he will be doing after graduation, Key said that he can't help but make service a way of life.
"I don't know that I have a choice. I don't know if there's really anything else I can do," he said. "I don't know that I'll have a job and then do volunteering on the side, but whatever I do to make a living, or, even if I don't have a traditional job, I'd like to have something that supports me financially and that makes a difference."
Grainger said that doesn't surprise her.
"Service is a mindset and a way of life for him, not just a student activity," she said.