Medicaid recipients and uninsured lack access to physicians
The Schroeder Center for Healthcare Policy at the College of William and Mary reported today that people in the greater Williamsburg area with Medicaid or no health insurance are the most likely to have problems with access to a doctor. They found people with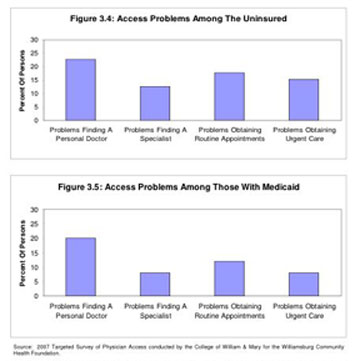 Medicare or private insurance are the least likely to have problems with access to doctor care. The Center also reported that Medicare patients in the Greater Williamsburg area have better access to doctors than Medicare beneficiaries nationally.
The results are based on a survey of 1,125 persons and targeted to underserved areas identified by the Virginia Department of Health. The survey was funded by a grant from the Williamsburg Community Health Foundation.
"The study found that parity in access to doctors is not a characteristic of the greater Williamsburg area," said Louis Rossiter, Director of the W&M Schroeder Center.
"Anecdotal comments are made by local people in the greater Williamsburg area about personal difficulties in accessing doctor care. The survey confirmed the anecdotes but found that the problems are not in certain geographic areas but are concentrated among those with Medicaid or no health insurance at all."
People without health insurance were least likely to have a relationship with a personal doctor (59.5 percent), followed closely behind by Medicaid recipients (64 percent), compared to all other groups, according to the survey. Likewise, the uninsured were most likely to have a big problem obtaining access to a specialist when needed (25 percent). Nearly one-half (47.8 percent) of the uninsured had problems obtaining routine care, and nearly 60 percent (59.1 percent) had problems obtaining urgent care. In contrast, the survey revealed that overall 86 percent of people in greater Williamsburg area have a relationship with a personal doctor.
There are 583 active non-federal doctors in the greater Williamsburg area, of which approximately 43 percent are primary care and 57 percent are specialist. This is similar, if not favorable, compared to the per population doctor supply in the U.S. and Virginia. However, nearly 20 percent of doctors and nurse practitioners are new to this area (3 years or less). The survey also found that nearly three-fourths of all doctors are accepting new patients, including 70 percent who are accepting new Medicaid patients and 78 percent new uninsured patients. Fully 93 percent accept privately insured patients, which means 7 percent or fewer accept no new patients.
"Compared to national estimates for Medicare - which report 33 percent of doctors are not accepting new Medicare patients - in this area, only 25 percent are not accepting new Medicare patients. The primary reason for not accepting new patients or limiting services in the greater Williamsburg area is inadequate reimbursement for Medicare and Medicaid, but Medicare billing and regulatory requirements are also given by doctors as a common reason," said Christine Jensen another investigator on the W&M Schroeder Center study.