HHMI program lets first-year students do real science
Freshmen at the College of William and Mary next fall will begin their first year participating in a long-term biology research project, part of an initiative to reform science education by the Howard Hughes Medical Institute (HHMI).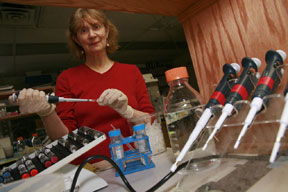 William and Mary is one of 12 schools nationwide to be selected for participation in the Phage Genomics Research Initiative, a program conducted by HHMI's Science Education Alliance (SEA).
"The phage genomics course is the beginning of the transformation that the Science Education Alliance hopes to bring to science education," said Tuajuanda C. Jordan, a biochemist and director of the SEA. "The institutions that we have chosen really see the long-term impact that the program can have on their students and their institutions. The participating faculty have support at all levels for implementing and expanding on the program."
At William and Mary, the two-semester course will be taught by Margaret Saha and Mark Forsyth of the College's biology department. The inaugural phage genomics course will consist of one section of 20 students or two sections of 15 students, depending on the degree of interest.
"I really think that this ranks as one of the most innovative and exciting ideas that I've seen in science education in a long, long time," Saha said. "This dovetails perfectly with the mission of William and Mary, too. It's what we do here already—blend research and teaching."
Participants will use a variety of sophisticated scientific research techniques to study the genetic makeup of phages—bacterial viruses found in soil.
"The first thing the students will do is go outside and get some dirt and isolate phage particles," Saha said. "The first part will involve ecology, microbiology, and molecular genetics—growing and isolating the phage and characterizing it using molecular techniques. The second semester goes on to the high-powered sequencing, annotation and data analysis."
She said the William and Mary group will work with ecologists in the biology department to collect soil samples from a range of interesting sites that are currently being studied at William and Mary. Saha pointed out that the phage genome project will expose the students to a wide range of disciplines, skills and techniques.
"It's going to involve many fields of biology, but also some basic chemistry as well as computational biology, computer science, data analysis and statistical analysis," she said. "It will encompass all those interdisciplinary fields, which is the way all research is going now."
Saha and Forsyth, along with faculty from the other 11 participating schools, will attend training sessions at HHMI's Janelia Farm in Northern Virginia to prepare for the phage genome course. The year-long research activity will culminate with a careful analysis and annotation of the phage sequence by the students.
"Hopefully we're going to contribute as much to this program as we get out of it," Saha said. "We know very little about these phage genomes, so the students are actually going to be discovering things that will hopefully end up in presentations and joint publications."
The phage genome project is the first major educational initiative of the Science Education Alliance. William and Mary will receive three years of support from HHMI to assist with faculty training, reagents, computing support and DNA sequencing services for the course.
"The initial institutions we have selected represent a broad sampling of high quality higher education. Although diverse in size and location, all participating schools share a desire to bring authentic discovery to freshman instruction," said Peter J. Bruns, vice president for grants and special programs at HHMI.
Saha said incoming freshmen will be notified about the application process for the program. If the program is successful at William and Mary, she said it will be expanded to any interested biology major and continued past the three-year HHMI support period.
"It's actual research. It's not 'research-like.' It's not playing at research or teaching how to do research," Saha said. "It actually is research with the goal of discovering new knowledge."