Deputy police chief earns 2007 Duke Award
When Ed Davis was pulled over for drag racing as a high school senior, he had no idea that he would be getting more than a fine from the experience.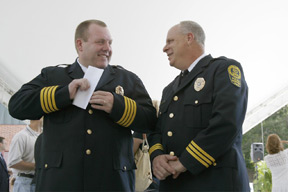 The officer that stopped Davis and his friend made quite an impression on the pair.
"He could have treated us like two really stupid kids, which is what we in fact were, but he didn't do that. He maintained the high ground and treated us with dignity and respect," he said.
The encounter peaked Davis' interest in a law enforcement career, a career that would eventually lead him to the William and Mary Police, where he has served with humility and a strong sense of teamwork for more than 17 years.
Now, Davis' devotion to his job and colleagues has earned him the 2007 Charles and Virginia Duke Award, one of the highest honors given to staff at the College.
"His personal and professional standards are consistent with and are the embodiment of the spirit that is the College of William and Mary," said Police Chief Don Challis. "This would be a much different place without the respect, honor, commitment, and dedication to excellence that is exemplified in Captain Edward N. Davis III. He is the embodiment of the ideals of the College and is a noteworthy recipient of the Charles and Virginia Duke award."
The award is given annually to recognize exceptional devotion to William and Mary by a non-student, non-instructional faculty employee. Davis received the award and its $5,000 prize at a reception May 10.
"It's a very humbling experience for me. I wish there was some way everybody who is deserving could win at the same time, but then the college would go broke," he said. "You don't go through this life by yourself, and I didn't get through this point without the help of a lot of folks."
Born into a military family in Charleston, S.C., Davis' father was involved in military law enforcement.
"I had always had an interest in giving back to the community. I thought it was a rather noble calling and I thought it was something I'd be good at, and so that's what I elected to do," he said. "My, oh my, I had no idea the ride I'd be in for."
He started his career in law enforcement by working at a jail in Yorktown that also served as a federal holding facility. The experience, he says, made him grow up very quickly. Later, he worked as a bailiff for a district court judge, and finally, at age 20, he became one of the youngest people in Virginia to ever be deputized. Davis worked for York County for ten years before coming to William and Mary in 1990. He said that his time working at the sheriff's department had turned him somewhat cynical, but coming to William and Mary helped turn that around.
"I really didn't know what I was getting into. It was quite a bit different than policing in the municipal sector, but it's turned out to be a very good marriage for me," said the husband and father of two. "I believe as a person, just by virtue of the diversity of the community here I have grown so much over the years. I met a lot of interesting people that I may not have otherwise have got to meet, and it's done a lot over the years to change my perspective on life in general, and that's a good thing."
Davis worked his way up in the William and Mary police force, going from police officer to sergeant to lieutenant until finally being promoted to captain in November 2005. He has worked all kinds of cases and has helped secure the campus as numerous important visitors have come through, including George Bush in 1995 and Queen Elizabeth II just last week. Despite the contributions he has made, he is hesitant to take all of the credit for himself.
Challis said that, no matter the situation, Davis always has the right approach.
"Ed is our George Patton and our Captain Kangaroo. He is rock hard and steady when it is needed, but he is also kind, compassionate and understanding," he said. "He is in equal amounts both velvet and steel. By comparison, I am more akin to lead and burlap. We are a unique pair, but a pair that works well together."
"Anything I've succeeded at doing here has not been without the help of others, and it's been driven by the fear of being seen as mediocre," he said. "I don't want to be seen as being average. Lots of people can do that, and if I don't set that bar somewhere for these folks to aspire to, most people, just by human nature, will just do what they have to and nothing more. I constantly push myself to keep the bar up there where it needs to be, it just makes me better and hopefully makes them better, too."
When Davis eventually retires, he knows he will look back on his career at William and Mary with pride.
"William and Mary brings out the best in me, in terms of always wanting to make a good impression and never wanting to fall short," he said. "I think those are the things that William and Mary is all about."