College to test emergency sirens Wednesday morning
Sam Sadler, vice president of student affairs and chair of the College's emergency management committee, sent the following e-mail to faculty, staff and students regarding Wednesday's test of William and Mary's new emergency sirens system.  –Ed.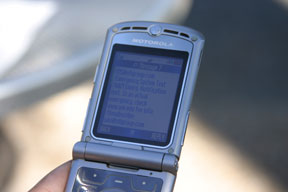 The good news is that when yesterday's emergency alarm system was tested there were 6  representatives on campus from the company that had installed it.  The bad news, as you know, is that the alarm didn't sound.  Tests of the system have revealed both hardware and software problems including issues with wiring and a relay that didn't work.  The company has worked diligently with College staff to find and repair those conditions, and that chirping you heard at 12:30 was a very brief firing of the sirens.  They worked!  So tomorrow we are going to try again.

At 10:55 a.m., to avoid another interruption of class activity, the alarm sirens will sound for a full minute.  Remember.  This is a test.  Since we have already run the phone, text messaging and e-mail components of the system twice in the past week, we will not employ those tomorrow.  We will, however, use the static web page from 10:55 a.m. until 11:30 a.m. to make certain that people who are seeking information about the sound they will be hearing, especially community residents, will have a place where they can learn why the alarms are sounding.

Ordinarily we will not test one part of our notification system without testing the other. But we have now tested the telecommunications portion of this system twice in a week and don't want to run the risk of our testing just becoming annoying.  Because, however, we have not had a successful test of the siren system, we need to try again. We still need to know that the sirens will work as designed to work and we want you to be familiar with the sound.  Another full scale test of the system will be scheduled later in the semester to check all components again and to satisfy ourselves that the glitches we have experienced recently will not be repeated.

Your patience and understanding about the interruption these tests have caused this week are greatly appreciated.

—Sam Sadler, Chair, Emergency Management Team