Avoided deforestation: Keep the trees and make the rain forest pay
Residents of Amazonia could find that their rain forests generate more income with the trees standing than when cleared for logging or agricultural development, according to an incentive program outlined in a leading scientific journal.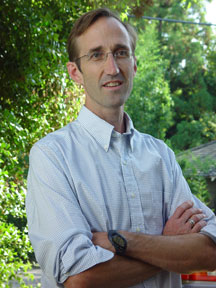 "Avoided deforestation" is not only a worthwhile ecological concept, it also may be worth money to the peoples of rain-forest regions of Brazil and the Guyanas. J. Timmons Roberts, acting director of the program in Environmental Science and Policy at the College of William and Mary, is a co-author of "Climate Change, Deforestation, and the Fate of the Amazon." The paper was published in the online version of Science on Nov. 30 and will appear in an upcoming print version.
"The concept is basically that wealthy nations would pay for the services provided by an intact rain forest," Roberts explained. The framework for cash incentives, he said, came from the international markets in carbon emissions that followed the Kyoto Protocol. "In essence, we will be paying for carbon dioxide not released by deforestation, as well as carbon dioxide absorbed by the forest."
South American rain forests are a potential weapon against global warming at the same time as being a potential cause and casualty of its effects. Even though the Amazonian rain forests are threatened by trends associated with global warming, Roberts said the most immediate danger is deforestation stemming from logging, ranching and agricultural uses.
The Science paper stresses the importance of the Amazonian forests to regional and global climate, noting that the trees and the soil they grow in retain immense amounts of carbon. Much of the region's water is rainfall "recycled" through the trees and back into the atmosphere. Roberts and his co-authors cite models that indicate removal of 30 percent to 40 percent of the rain forest could push a large portion of Amazonia into a drier climate, which in turn could have effects on the global climate.
The paper outlines a set of broad ecological goals for the Amazonian forests, starting with keeping the total deforested areas below the 30 percent to 40 percent climatic "tipping point." It also recommends conserving forested migration corridors, especially along rivers, to act as refuges and migration routes for wildlife.
Biodiversity is a related concern in Amazonia. Avoided deforestation, Roberts said, offers additional ecological benefits in that the concept will help to preserve biodiversity and protect watersheds locally as well as to help mitigate climate change.
Roberts is a professor of sociology at William and Mary as well as acting director of the program in environmental science and policy. His co-authors include scholars from Brazil and the United Kingdom.