Acclaimed physicist to welcome incoming students
William and Mary alumnus Warren W. Buck, former chancellor of the University of Washington-Bothell and prominent physicist, will welcome the freshman Class of 2010 and entering graduate and transfer students during opening convocation exercises Sept. 1, 2006.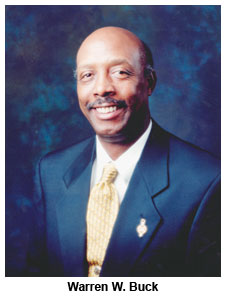 The ceremony, which will be held at 4:30 p.m. in the Courtyard of the Sir Christopher Wren Building, marks the beginning of the academic year at the College of William and Mary. The event is free and open to the public. In his first public ceremony as Rector of the College, Michael Powell, an alumnus of the College and former chair of the Federal Communications Commission, will also offer brief remarks.
"Dr. Buck has long brought honor to his alma mater as a pioneering physicist, mentor to young scientists, and extraordinary academic leader," William and Mary President Gene R. Nichol said. "We know the words, and the example, he shares with our new students will be equally stirring. We look forward to welcoming him home and to publicly welcoming our new Rector, Michael Powell."
Buck received his master's and doctorate in theoretical high-energy nuclear physics from William and Mary and became the first chancellor of Washington's Bothell campus in 1999. An internationally recognized physicist, Buck is as widely known for mentoring doctoral physics students and inspiring countless minority students to pursue careers in the sciences. He stepped down from his chancellor post in 2005 to return to the classroom.
Prior to joining the University of Washington, Buck was a prominent member of a team that established the scientific program at the Jefferson Lab and was founding director of the Nuclear/High Energy Physics Research Center of Excellence and a professor of physics at Hampton University.
In 2001, he received the Quality Education for Minorities' Mathematics, Science and Engineering Network Giants in Science Award, which recognizes outstanding teachers, mentors and role models. He is also a recent recipient of the Hulon Willis Association Impact Award for his service to the African-American community while at William and Mary. As a graduate student at William and Mary, Buck received a National Science Foundation fellowship and was founding president of the College's Black Student Organization. He returned to serve on the Alumni Association's Board of Directors from 1998-2004, including a two-year term as the board's secretary.
Buck is a life member and former chair of the Committee on Education of the American Physical Society. He is also a member of Omicron Delta Kappa leadership fraternity. In 1998, Buck was featured on an episode of the "Bill Nye the Science Guy" TV program and honored as a "Way Cool Scientist."