Message on Reveley's retirement
President Taylor Reveley sent the following message to the W&M community on April 7, 2017 - Ed.
Dear W&M Community,
These days serving as president of a college or university is one of the most challenging but meaningful jobs anyone can have. It has been my rare privilege to lead magnificent William & Mary since February 2008.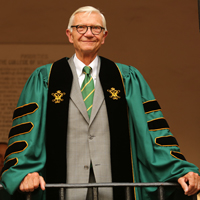 I have informed our Board of Visitors that my last day as president will be June 30, 2018. I will retire then after two very wonderful decades at William & Mary, first as dean of the Law School and then as president.
A press release sketches highlights of the progress we've made together for William & Mary. There will also be a video from my retirement announcement today in the Great Hall of the Wren Building available later this evening on the William & Mary website. Soon you will hear from Rector Todd Stottlemyer '85 about plans to seek my successor. More than a year's time for the search should lead to an outstanding 28th president and a seamless transition.
By no stretch of the imagination will I be a lame duck for the next 14 months.  So this is not farewell.
When I do enter the Elysian Fields of retirement in June 2018, it will be with great confidence in the people and promise of William & Mary.  And for both Helen and me, it will be with a powerful sense of always belonging to the William & Mary family. 
Best wishes,
Taylor
Press Release: http://www.wm.edu/news/stories/2017/reveley.php