Message on the passing of Lawrence Charity
Vice President for Administration Anna Martin sent the following message to the campus community Oct. 15, 2014 - Ed.
It is with deep sadness that I inform you of the passing of Lawrence Willie Charity, Sr.  Mr. Charity served as a cook in dining services at the College for 55 years before retiring in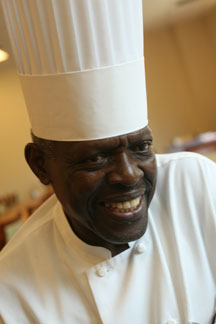 2013. Mr. Charity was much beloved by countless numbers  of William & Mary students with whom he interacted every day. He was known in the Commons Dining Hall as the "King of Soups." Homemade clam chowder and a hearty vegetable soup were his specialties.  Prior to working in the  Commons, he worked in the storeroom of the Marketplace. His former supervisors  and colleagues remember him as a man with a heart of gold who always went above and beyond the call of duty.    
Mr. Charity was one of nine siblings, seven of whom worked at the College of William and Mary in housekeeping and dining services. They include Marion Dover, Barbara Smith, Deloris Richards, Blanche Brown, Dorothy Brown, and Francine Brooks.  Many of his nieces are currently employed by the college. This is truly a family that has served the College with loyalty, dedication and distinction.
A funeral service will be held today, Wednesday, October 15 at 2:00 p.m. in Parrish Hill Baptist Church, 12401 John Tyler Memorial Highway, Charles City.
Anna B. Martin