President Reveley message on W&M finances
Dear William & Mary Community,
Today the Board of Visitors approved a plan to re-balance William & Mary's budget for the current fiscal year. This was required because of a substantial September cut in state funding for both the main campus and the Virginia Institute of Marine Science (VIMS). Let's first look at the main campus and then VIMS.
As I wrote you in September, we must revise the main campus budget for 2009/10 because of a 15% ($6.2 million) cut in state support that came after this fiscal year began. By way of context, since April 2008 there have been four reductions in state support for the public colleges and universities in Virginia. For William & Mary, these four cuts permanently removed $16.7 million of the state's "Education and General," or "base," funding for the College. This amounts to a 32% cut in base funding in 18 months.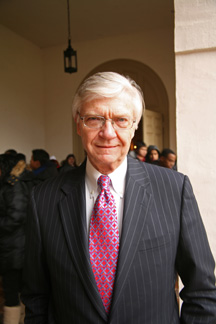 Thirty years ago the Commonwealth of Virginia provided almost 43% of the College's operating budget. Today it provides less than 14%. Ten years ago, in inflation-adjusted dollars, the state provided $12,852 for each in-state student at William & Mary. This fiscal year the state will provide only $7,106 for each in-state student and, of course, nothing for each out-of-state student. The Commonwealth of Virginia now ranks 40th among all states in its support for in-state students at public colleges and universities. North Carolina ranks 7th and Maryland 14th.
To deal with the $10.5 million in state cuts before September 2009, we used a combination of budget reductions and federal stimulus funds. Raises planned for November 2008 were cancelled, and raises will not occur this November. We eliminated 13 vacant positions, reduced most operating expenses by 5%, reorganized several administrative offices, cut printed materials and increased use of the Web as our principal means of communication, reduced our outside rental costs and cut our debt service. We are also phasing out our participation with two other schools in a doctoral program in clinical psychology. And we increased slightly the size of the College's incoming freshman class to generate additional tuition revenue. These actions were then supplemented with $3.8 million in one-time funds from the federal stimulus program.
Now, with the September 2009 cut, we must find another $6.2 million. The Board of Visitors has approved a combination of measures: resort to another $2.8 million in one-time federal stimulus funds originally meant to help with next year's operating budget, a further reduction of $1.5 in our operating budget, and the addition of $1.9 million in new tuition revenue.
The operating budget reduction removes another $700,000 from the already strapped M&O budgets of our various schools, departments and programs, and it culls $800,000 through elimination of 18 more positions, including 12 layoffs among our professional and classified staff. Although we have been able to avoid layoffs until now, the bulk of our operating budget goes to people, and we are sadly no longer able to retain everyone. The layoffs will not begin until January 2010. If the General Assembly approves Governor Kaine's plan for a one-day unpaid furlough next semester of all employees at state entities, we will have the furlough.
To close the gap still remaining in the budget, the Board of Visitors has approved a mid-year tuition increase of $300 for each undergraduate, business and law student, which will be included in the spring bill. To offset the impact on students with the greatest need, we have set aside more than $300,000 for additional financial aid. As with layoffs, the mid-year tuition increase is a step taken after serious thought and with great reluctance. Students and their families, like the university as a whole, prepare budgets before the fiscal year begins and expect to be able to stick to them. This has not proved feasible for either William & Mary or our students.
VIMS, which has a separate operating budget from the rest of the university, confronts the need to take even more severe steps, including layoffs. VIMS Dean John Wells will send a message to faculty, staff and students at the Institute soon.
The financial outlook for 2010/11 looks even less promising than the situation this year. Without another infusion of federal stimulus dollars or a dramatic rebound in Virginia's tax revenues, we will face very difficult decisions. We are not alone, of course. Colleges and universities across the country are suffering. When confronting these difficulties, William & Mary does have history going for us. The College has weathered far worse times than these.
While those of us at William & Mary must keep doing "more with less," we are working hard to get to the point where we can do "more with more." That time is coming soon, in my judgment, though not this fiscal year or next. For the longer term, I have great confidence in William & Mary's capacity to build the endowment, increase annual giving, and generate earned income.
Taylor Reveley