Incoming freshman receives first Trevarthen Scholarship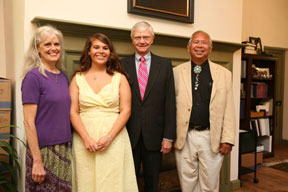 (Williamsburg, Va.) – Morgan Faulkner, an incoming freshman at the College of William and Mary, recently received the first annual Anne Trevarthen Memorial Scholarship from the National Society Daughters of the American Revolution (DAR).

The $4,000 scholarship will be presented each April to a high-school senior who will be attending William and Mary and who has demonstrated a personal connection to American Indian culture and traditions.

"Morgan is an extraordinary young woman who'll bring much to our College community," said William and Mary Interim President W. Taylor Reveley III. "We're delighted that she has received the first Trevarthen Scholarship, and pleased that she'll be a member of William & Mary's Class of 2012."

Faulkner, of King William, Va., is an active member of the Upper Mattaponi Indian Tribe. She was part of the Virginia Indian delegation that traveled to Kent, England – the place where Pocahontas is buried -- in 2006 to commemorate Jamestown's 400th anniversary. Faulkner has also served as the head, junior lady dancer at numerous powwows and as a delegate to all of the major Jamestown 2007 events, and she participated in last summer's Smithsonian Folklife Festival event on the National Mall in Washington, D.C. Currently a senior at King William High School, Faulkner chose to attend William and Mary over several other prestigious institutions, including Dartmouth College, as a result of the Trevarthen Scholarship.
"I was extremely shocked when (William and Mary) called me and notified me of this scholarship becoming available to me. It definitely helped sway my decision to attend William and Mary over the other institutions I was considering," said Faulkner. "I feel honored to be the first recipient of the Trevarthen Scholarship and am glad that my education at William and Mary will be furthered by it."

Frances Broaddus-Crutchfield, a national vice chairman for DAR and state historian for Virginia DAR, came up with the idea for the scholarship in 2006 when she served as the organization's Virginia State Chairman for American Indians. She said she wanted to do something for "First Americans" in memory of Trevarthen, who passed away in 2006. Trevarthen was a 43-year resident of Williamsburg who was highly involved in the local, district and national levels of the DAR. She also worked with the Virginia Gazette, Daily Press, Colonial Williamsburg Foundation and Norfolk's Immigration and Naturalization Services.

Broaddus-Crutchfield said she chose William and Mary as home for the scholarship because of Trevarthen's ties to the area and the College's unique connection to American-Indian history, which dates from the 18th-century Indian School at the Brafferton building to the 21st-century research of faculty, students and staff. For example, the American Indian Resource Center at William and Mary is involved in numerous research projects, including the construction of an oral history of Virginia Indians. Researchers at William and Mary also played a pivotal role in the uncovering a 17th-century American Indian settlement on the York River, which is thought to be the village of Werowocomoco, home to Virginia Algonquian Chief Powhatan from 1607 to 1609.

Broaddus-Crutchfield's son, Henry Broaddus, is also the College's dean of admission and the one who offered Faulkner the scholarship.

"I knew we could work together, and I wanted decisions to be left in the hands of the academic institution long after we were dead and gone," said Broaddus-Crutchfield, adding she and Trevarthen's best friend, Sandra Walker, worked with other members of the DAR to raise the minimum of $50,000 that was needed to establish the scholarship.

"It has taken two long years, but we were successful thanks to many generous Daughters who loved Anne," she said. "We are very excited that a member of the Upper Mattaponi Tribe will be the first recipient."

For more information on the Werowocomoco research project, visit http://powhatan.wm.edu/.