Publications & Presentations
Publications & Presentations
W&M Noyce Scholars Program Publications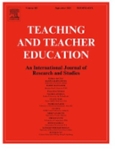 Grillo, M., & Kier, M. (2021). Why do they stay? An exploratory analysis of identities and commitment factors associated with teaching retention in high-need school contexts. Teaching and Teacher Education, 105, 103423. 
https://doi.org/10.1016/j.tate.2021.103423
Abstract
While the literature cites a number of examples for why STEM teachers leave high-need school (HNS) contexts, there are fewer studies that address why teachers stay. Through the examination of STEM teacher participants who accepted a scholarship to teach in HNSs, we sought to understand the aspects of their identities and social experiences that supported their commitment. Using a qualitative methodology and thematic analysis, we found teachers to enact researcher and social justice advocate identities that were supported by familial relationships with administrators, colleagues, and students. These factors support teachers not just to remain but to flourish amid highly demanding contexts.
Paul D. Heideman & Jessica. E. Laury (2021) Ultra-Short Presentations with Immediate in-Class Public Feedback to Enhance Skill Development with Low Class Time and Instructor Time, College Teaching, 
https://doi.org/10.1080/87567555.2021.1913395
Abstract
The development of oral presentation skills requires multiple opportunities to present and receive focused feedback. In typical discipline-based and general-education courses, class time is precious, and even when oral presentations are part of a course, students may receive only one or two opportunities to present with feedback. Here we describe an approach to develop presentation skills with ultra-short, one-minute presentations followed immediately by brief, supportive, focused, public in-class instructor feedback. Feedback is offered as one positive comment (one thing I liked) and one targeted goal for improvement (one thing to work on). The short time frame maximizes the number of iterative cycles of practice, feedback, and implementation of feedback. This approach was used with students in several semester-long courses offering three to eight opportunities to present. Students took anonymous surveys immediately after the course experience and again up to two and a half years post-experience. Over 95% reported that they learned a great deal about how to improve their own presentations by watching other presentations and hearing the instructor's immediate feedback. Respondents reported lasting gains in skills, increased confidence in their public speaking abilities, and all would recommend the experience to others.
Kier, MW and Chen, JA. Kindling the fire: Fueling preservice science teachers' interest to teach in high‐needs schools. Science Education. 2019; 103: 875-899.  https://doi.org/10.1002/sce.21520
Abstract
This study applies psychological models of interest and motivation (i.e., a model of interest‐development and self‐determination theory) to the experiences of six preservice science Noyce scholars who participated in a teacher preparation program. The National Science Foundation's Noyce grant aims to incentivize mathematics and science majors to teach in high‐needs school districts. Through this interview study, we sought to understand how Noyce scholars' pre‐existing interests and their experiences in the Noyce program interact to develop individual commitments to teach in high‐needs school settings. Case studies reveal that scholars had no prior experiences in high‐needs schools, abstract ideas about teachers, students, and resources in these contexts, and varying degrees of initial connectedness to teaching in high‐needs school settings. Scholars found that site visits to diverse high‐needs schools (i.e., rural and urban) triggered their interest to teach in similar contexts. Preservice science teachers' emerging interest and level of commitment to teaching in high‐needs schools following the teacher preparation program was dependent upon context‐specific mastery experiences and autonomy within their long‐term clinical field experience. This study offers implications for teacher educators who are recruiting and preparing students to teach in high‐needs school contexts.
Heideman, Paul D., Adryan Flores*, Lu Sevier*, and Kelsey Trouton*.  2017. Effectiveness and Adoption of a Drawing-to-Learn Study Tool for Recall and Problem Solving: Minute Sketches with Folded Lists.  CBE Life Sciences Education:16:ar28 doi:10.1187/cbe.16-03-0116
Abstract
Drawing by learners can be an effective way to develop memory and generate visual models for higher-order skills in biology, but students are often reluctant to adopt drawing as a study method. We designed a nonclassroom intervention that instructed introductory biology college students in a drawing method, minute sketches in folded lists (MSFL), and allowed them to self-assess their recall and problem solving, first in a simple recall task involving non-European alphabets and later using unfamiliar biology content. In two preliminary ex situ experiments, students had greater recall on the simple learning task, non-European alphabets with associated phonetic sounds, using MSFL in comparison with a preferred method, visual review (VR). In the intervention, students studying using MSFL and VR had ∼50–80% greater recall of content studied with MSFL and, in a subset of trials, better performance on problem-solving tasks on biology content. Eight months after beginning the intervention, participants had shifted self-reported use of drawing from 2% to 20% of study time. For a small subset of participants, MSFL had become a preferred study method, and 70% of participants reported continued use of MSFL. This brief, low-cost intervention resulted in enduring changes in study behavior.
W&M Noyce Scholars Program Presentations & Posters
Posters
Paul D. Heideman, Grillo, M., Kier, M., Mcdonald, H., Mason, M., Jackson, J., and Porter, M. Why They Stay: Factors associated with Noyce alumni retention in High Need Schools. Poster presented at the American Association for the Advancement of Science Noyce Summit, 5 August 2020, Virtual. https://www.noycevirtualsummit.com/poster-sessions/pheideman 
Paul D. Heideman, Wilkin, L*. Enduring Use of Learner-Generated Drawing to Learn Biology: Brief Intervention versus Extended Practice. Poster presented at the 2019 ASCB / EMBO Meeting, 7-11 December 2019, Washington, D.C.
Paul D. Heideman, Wilkin, L*. Enduring Use of Learner-Generated Drawing to Learn Biology: Brief Intervention versus Extended Practice. Poster presented at the 2019 American Society for Microbiology Conference for Undergraduate Educators, 1-4 August 2019, Tysons, VA.
Paul D. Heideman, Grillo, M., Kier, M., Mcdonald, H., Mason, M., McDonnell, M. and Porter, M. Preparing Equity‐Minded Mathematics and Science Teachers to Work with Diverse Communities of Learners. Poster presented at the American Association for the Advancement of Science Noyce Summit, 10-12 July 2019, Washington D.C.
Presentations
Kier, M.W. (2021). STEM Mentoring Practices: Sparking Curiosity & Social Agency of Children through the Application of STEM. The Office of Community Engagement in collaboration with the W&M School of Education. Williamsburg, VA.
Mason, Marguerite, & Monica Grillo.  "Cell Phones in a Math Class: A Distraction or a Tool?"  Conference of the National Council of Teachers of Mathematics on February 5, 2021. Virtual.
Paul D. Heideman. Model-Based Reasoning and Recall using Sketching to Learn and Eyes-Closed Exercises. Workshop presented at the American Association for the Advancement of Science Noyce Summit, 10-12 July 2019, Washington D.C.
Resources for Equity & Social Justice Education
Memory and Learning: A practical guide for students
This site has a textbook on learning developed for anyone who wants to:
Understand more about your memory and learning, &

Test study and learning methods that, with practice, can make learning faster and better.
ARISE—Advancing Research & Innovation in the STEM Education of Preservice Teachers in High-Need School Districts
ARISE provides resources, tools, and a community to foster research and evidence-based innovation in STEM preservice teacher education and leadership development programs.
Founded by Paul C. Gorski, building equitable and just schools, communities, and organizattions through transformative action. Becoming a threat to inequity in schools and beyond through Equity Literacy.
Our mission is to help teachers and schools educate children and youth to be active participants in a diverse democracy.
Teaching for Change provides teachers and parents with the tools to create schools where students learn to read, write, and change the world.
Disclaimer:
"This material is based upon work supported by the The National Science Foundation under Grant No. DUE1758419. Any opinions, findings, and conclusions or recommendations expressed in this material are those of the author(s) and do not necessarily reflect the views of the National Science Foundation."