Past Events sponsored by the Department of Religious Studies
February 12th 2019, Professor Christophe Rico (Director of Polis Institute in Jerusalem)- "The Names of Jerusalem in the Bible: From Meaning to Symbol and Destiny."
February 18th 2019, Nabiha Syed (Vice President and Associate General Counsel at BuzzFeed)- "Bastions of Freedom, Pockets of Tyranny: the First Amendment in the Twenty-First Century." 
March 28th, 2019, Sylvester Johnson (Princeton University) presented on the topic: The FBI and Religion: Faith and National Security before and after 9/11 
Hans Tiefel Lecture in Religion and Ethics, April 2nd 2019. Sylvia-Chan Malik (Rutgers, The State University of New Jersey), Title of talk "Being Muslim: Women of Color in/and American Islam." 

Wednesday, November 14, 2018, 3:30 PM - 5:00 PM, 
Wren Chapel, College of William & Mary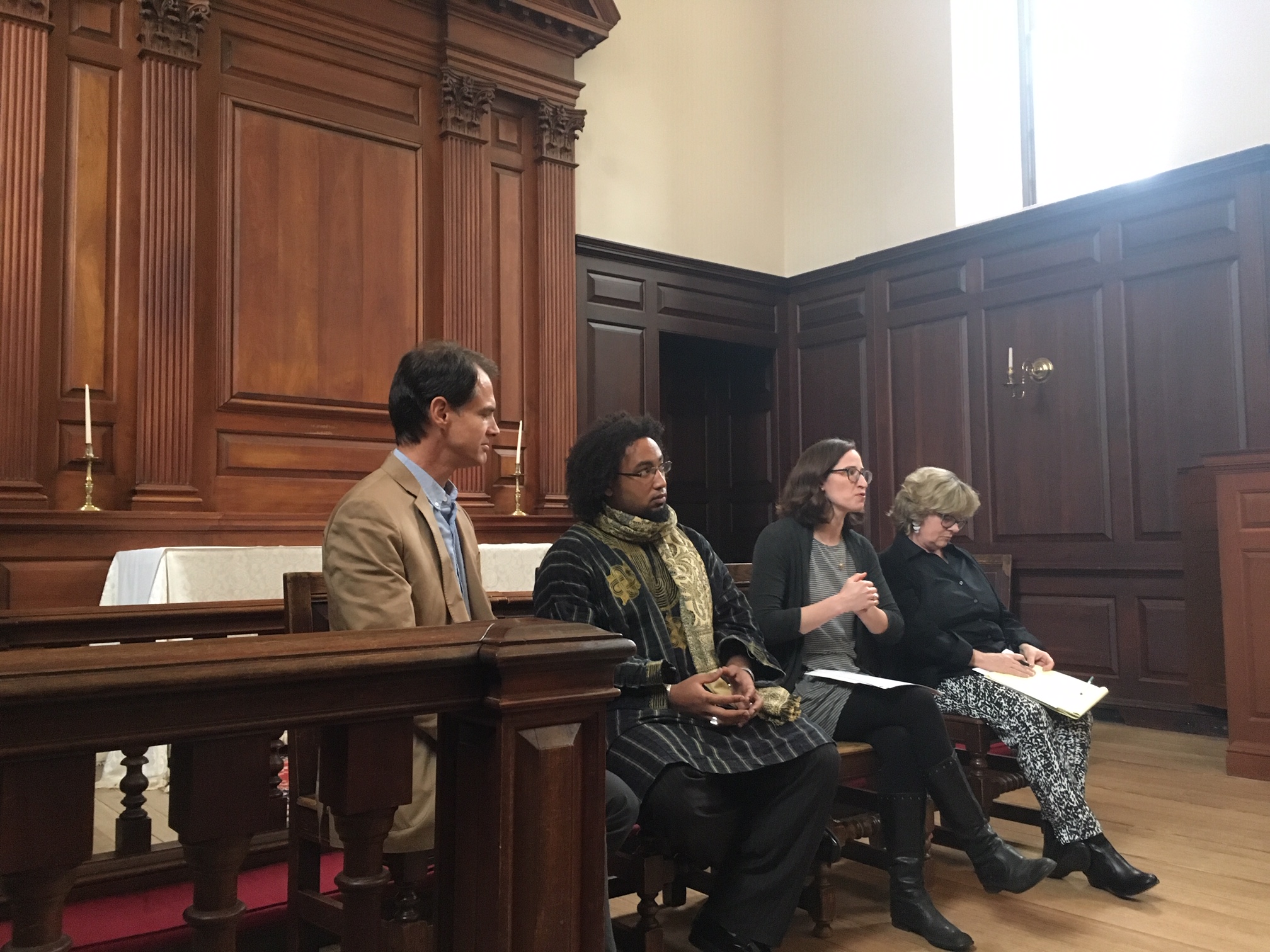 The Dept of Religion and the Judaic Studies Program hosted a particularly important event:  "Anti-Semitism and Racism in America after Pittsburgh: A Community Conversation." Led by panelists Professors Maureen Fitzgerald, Oludamini Ogunnaike, and Maggie Fraser Kirsh, at the event everyone reflected as a community on anti-Semitism and racism in America, particularly in light of the recent shooting at Tree of Life Synagogue in Pittsburgh.  
"On Saturday, October 27th, eleven people were murdered at Pittsburgh's Tree of Life Synagogue by a gunman who shouted "All Jews must die" as he opened fire. Clearly antisemitic, the gunman was also motivated by anti-immigrant animus.  The tragedy is part of a growing pattern of expressions of hate and antisemitism in schools and communities, including many events that don't get national attention.  Our expert panelists will put these events in historical, social, and cultural context, followed by an open conversation with the audience, addressing questions such as:
The synagogue attack in Pittsburgh is disturbing, painful and prompts us to ask many questions. What questions does this event raise for you? What feelings does it provoke?
How do you see the events in Pittsburgh and around the country affecting people in your home, in your school, and in your community? Who in your community, including you yourself, might be feeling particularly vulnerable right now?
What small acts of hate—slurs, name-calling, graffiti— and what other factors contribute to a climate in which perpetrators of hate crimes feel emboldened? 
What are some meaningful actions we can take, even if only in our own home, neighborhood, or school?
Diversity & Inclusion Dept. Workshop
Wednesday, September 26th - Noon-1:30pm; Wren 315
Brown-Bag Lunch Series
Anne Rasmussen (Music) – Title TBD (Topic: Islam & Music in Indonesia)
Wednesday, October 31st - Noon-1:15pm; Wren 315
Marc Raphael – Title TBD (Topic: A Career Retrospective)
Wednesday, November 14th - Noon-1:15pm; Wren 315
Fall Tack Faculty Lecture
Anne Rasmussen (W&M Music Dept.)
"Women Out-Loud: The Gendered Landscape of Islamic Performance"
Tuesday, October 9th - 7:00pm; Sadler Center's Commonwealth Auditorium
Visiting Speaker's
Shankar Nair (University of Virginia)
"The Contours of Islamic Pluralism: A Muslim Interpretation of Hinduism in Early Modern South Asia" Tuesday, October 23rd - 5:00pm; Tucker 127A
Kristian Petersen (Old Dominion University)
"Muslim Ethics in China" Tuesday, October 30th - 3:30pm-4:50pm; Wren 301
Maria Massi Dakake (George Mason University)  
"The Past and the Future of Women's Commentary on the Qur'an"
Thursday, November 8th - 4:00pm; Tucker 127A
Joy Buolamwini (MIT Media Lab)
"The Coded Gaze: Unmasking Algorithmic Bias" - 100th Anniversary of Women at W&M, Monday, November 12th - 4:00pm; Location TBD
Prof. Matthew Pereira (Loyola Marymount University) gave a lecture entitled "From the Margins to the Mainstream: How Borderland Monks Reconfigured the Christian Tradition of the Late Roman Empire."
Thursday, April 19, 2017, 5 PM – 6:15 PM
Blow Hall 333, College of William & Mary
From the Late Roman Empire to the present day United States, institutional centers (religious and political) have perpetuated the illusion of coherence by marginalizing borderland communities. Criminalizing borderland people as "heretics" or "illegal aliens" is part of the systematic silencing of peripheral voices, which nonetheless have occasionally made their way to the "center" to transform "mainstream" views or bring new legitimacy to alternative ways of knowing.

In dialogue with current political discourse on "building walls" and the militarization of the U.S. southern border, this presentation explores one instance of the borderlands entering the "centers" by bringing to light the Scythian monks, a Latin monastic enclave located on the Greek eastern edge of the Late Roman Empire, who arrived in Constantinople in the early 6th century, were swiftly rebuked and, refusing to return to the borderlands, then travelled to Rome where they intervened in a major reconfiguring of the imperial Christian tradition.