John Osborn Speaks to Students about Pharmaceutical Pricing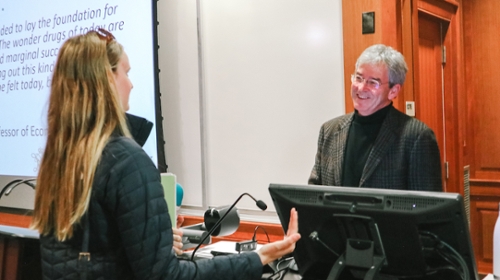 Are "scoundrels", the subset of pharmaceutical CEOs that are less-than-honest, partly responsible for the high price of prescription medication in America? Are increasing costs driven by the desires of pharmaceutical companies to fill their own pockets, or are rising costs, instead, a tool to continue funding innovation of new and more effective drugs? On November 14th, John Osborn, JD, W&M '79, tackled these questions in a public talk hosted by William & Mary's Schroeder Center for Health Policy.
Mr. Osborn began his talk with a discussion of how life science and pharmaceutical companies fund their research. He described various sources of capital, including venture capital firms, industry revenues, federal and state government, private foundations, and professional societies. After describing where pharmaceutical funding comes from, Mr. Osborn explained where funds go, detailing the high costs of clinical trial failures and issues surrounding generic drugs.
Once he conveyed this basic framework of industry pricing, Mr. Osborn shifted his focus to more macroeconomic factors. Here, Mr. Osborn discussed the problems of "scoundrel" CEOs and companies "addicted" to price hikes, acknowledging that these issues receive the most focus from the media. He also discussed other issues, such as providing prescription drugs to small patient populations.
Mr. Osborn finished his talk by highlighting past and current attempts to change the pharmaceutical industry both by Congress and the President and mentioning that the effects of any regulatory industry changes will not be immediately apparent.
 "Mr. Osborn's talk highlighted the complex issues surrounding prescription drug pricing and explained the goals of interested parties, both developers and consumers, in a balanced way. He sparked many questions for me to consider as I hope to enter the health policy field, including questions on the role of FDA regulations in managing this market," said Brittany Young, W&M '20. Both she and the other students in attendance left prepared to take that knowledge back to their communities.
Mr. Osborn is a life sciences industry executive, board member, former diplomat, lecturer, writer and lawyer.  Mr. Osborn's expertise draws from a range of notable experiences including serving in all three branches of the Federal government and as a member of the Presidential Advisory Commission on Public Diplomacy; working as a senior executive and general counsel with leading life sciences and healthcare companies, including Fortune 1000 firms Cephalon and US Oncology; and working as a partner with a Boston area venture capital firm and as a Senior Advisor with Hogan Lovells. Mr. Osborn also serves as a member of the W&M Public Policy Board of Advisors.