Disparities, Determinants and Data in the Era of Covid-19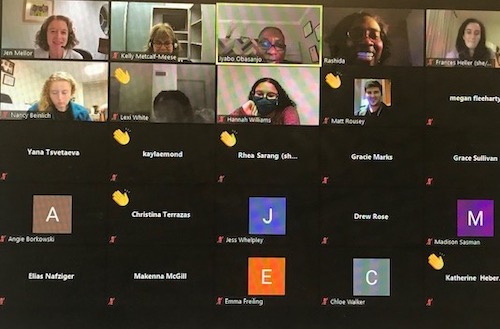 On Wednesday, October 14, William & Mary's Schroeder Center for Health Policy continued its multidisciplinary speaker series on the COVID-19 pandemic with a virtual talk by Rashida Dorsey, Ph.D., M.P.H., the founder and principal of WisdomBuilds, LLC. Dr. Dorsey has 14 years of experience working with federal data and is an expert in minority health and health disparities.  She is also a leader in demographic data collection standards, data coordination, and data policy. Her talk, titled "Disparities, Determinants and Data in the Era of Covid-19," was presented over Zoom and hosted by Professor of Kinesiology and Health Sciences Iyabo Obasanjo.
Dr. Dorsey explored two main themes throughout her presentation, the first being health disparities among racial/ethnic minorities in the United States. She used data from the Centers for Disease Control and Prevention (CDC), as an example, to highlight disparities for COVID-19 cases, hospitalizations, and death among American Indians, African Americans, and the Hispanic population when compared to white, non-Hispanic persons.  She also mentioned that racial/ethnic minorities are at higher risk for certain underlying chronic conditions, such as obesity and cardiovascular disease, that increase people's risk of severe illness from COVID-19. 
Dr. Dorsey examined the idea of social determinants of health to help explain these health disparities.  She described social determinants of health as conditions in which individuals "live, work, play, pray, and so on" that contribute to health status and health outcomes.  Examples, according to Dr. Dorsey, include healthcare access, economic stability, education, built environment, and the social and community context. Dr. Dorsey said that in the United States, racial/ethnic minorities experience inequities in many of these social determinants of health that "put them at an increased risk to get sick or to die from COVID-19."  In addition, she reviewed the economic effects of the pandemic, like unemployment, business closures, and increased food insecurity, that in the context of social determinants of health, particularly affect racial/ethnic minorities. 
The other theme which Dr. Dorsey wove throughout her presentation was the importance of data-driven research. She described many sources of data to help students examine racial/ethnic disparities and social determinants of health.  These included national and/or state data from CDC's COVID tracker, the U.S. Census Bureau's Household Pulse Survey, and the Atlantic's COVID tracking project as well as data from the Viral Diseases Division of the National Center for Immunization and Respiratory Diseases, Kaiser Family Foundation, and the Urban Institute.  Dr. Dorsey said that health data derived from these and other sources can strengthen research and drive change.
Dr. Dorsey also laid out a six-step road map, which could be applied to both COVID and other health issues, for people looking to create data-driven public health research.  Specifically, she recommended that researchers follow these steps:  select a specific health problem and population; compare the target population to other groups to identify any disparities; explore the relevant social determinants of health by consulting other literature; identify any gaps in the data and look for ways to fill them; use data to tell the story; and use the findings to create a healthier community. Dr. Dorsey said that this road map can help researchers develop further research, creating an ongoing cycle of public health data.
After she completed her presentation, Dr. Dorsey answered questions from the students in attendance. When asked how  to solve the racial/ethnic disparities related to  COVID-19, Dr. Dorsey said that people should think of these disparities in terms of preventing new cases and work directly with affected communities to target both the socioeconomic factors and the individual behaviors that are helping COVID-19 spread.
In answering a question about how COVID-19 is affecting incarcerated populations, she said that prisons present a unique threat for COVID-19 transmission because of close contact between incarcerated individuals and guards. However, Dr. Dorsey also explained that the highly organized and supervised nature of these institutions can make outbreaks easier to control if they are identified early enough.
Finally, Dr. Dorsey was asked where students who are interested in researching COVID-19 should begin. She commented that students should start by reviewing CDC's health equity strategy to help guide their questions and then look at prior research on these topics.
Dr. Dorsey's talk helped the student attendees understand COVID-19 in the context of already-existing health disparities and social determinants of health. Her data driven resources and investigative road map provided students with tools they will need to become part of health policy discussions that will outlast the current pandemic.