Policy Research Seminar (PRS)
Client-Driven Capstone Research Projects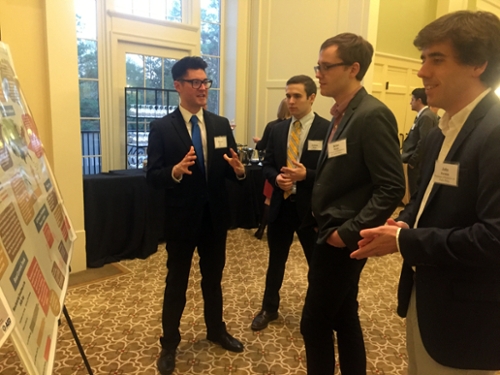 The Policy Research Seminar (PRS) is a one-semester research and writing intensive real-world experience that is our version of a capstone project for second-year students. Small teams of students complete client-driven policy analysis projects. This allows students to hone their skills in implementing the analytical tools of policy research and, perhaps most importantly, in communicating their results effectively to policymakers. Teams present intermediate results to each other and make one or more presentations to their clients. PRS students also share their work with the program's board members at the annual Board of Advisor reception held each fall semester.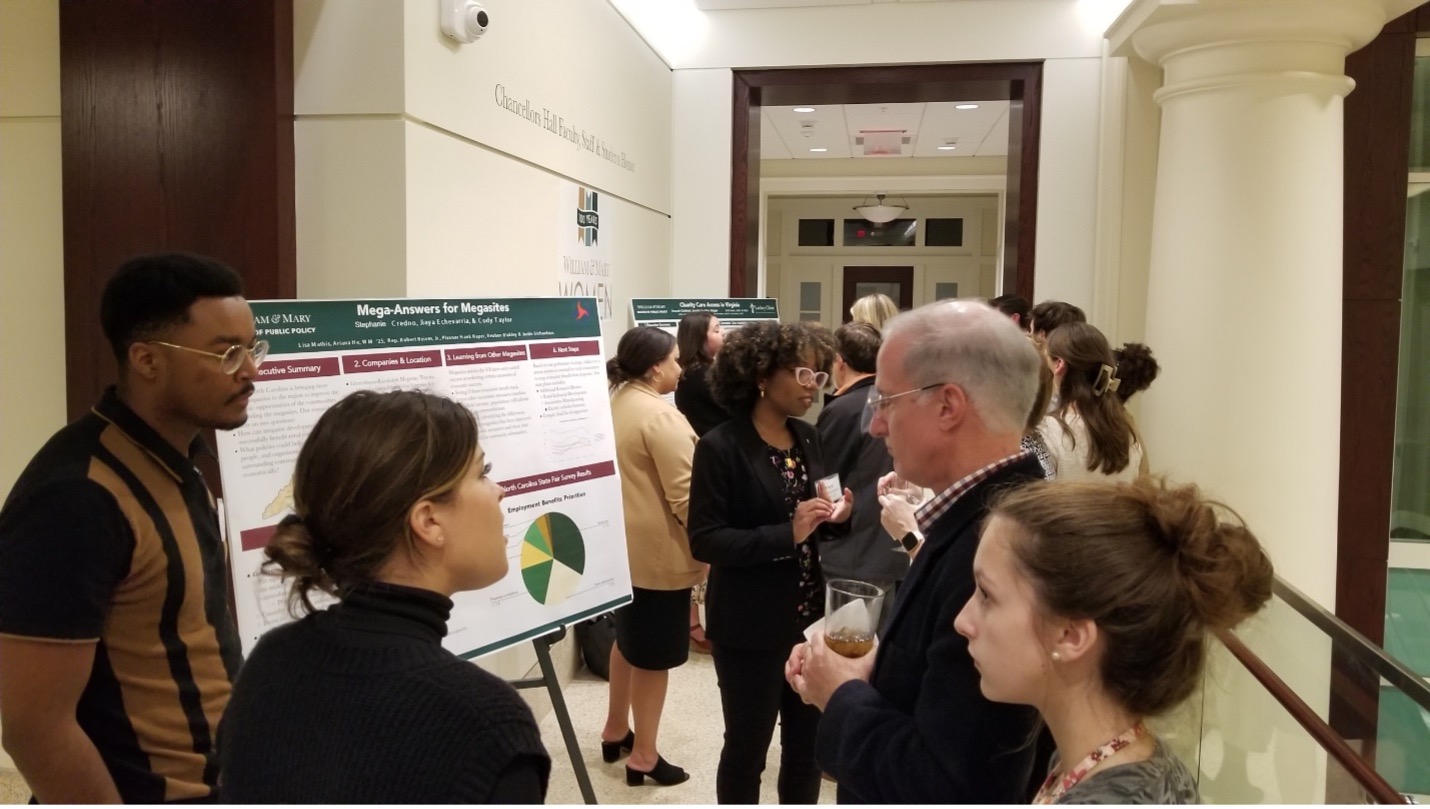 Project: Analysis of Megasite Impacts 
Client: North Carolina Department of Transportation 
The client connects people, products and places safely and efficiently to enhance the economy and vitality of North Carolina. Because of its rich natural resources, large workforce and vibrant economy, North Carolina has attracted several large companies to two industrial megasites in the rural central region. The companies are building out their sites at record speed, bringing more than 20,000 jobs over the next eight years. The size, scope and speed of the projects will bring unprecedented change to the surrounding areas that do not currently have the capacity to plan for what is to come. These are the largest industrial sites ever created in North Carolina and it is important for not only the companies, but also the communities and the state that they succeed. Therefore, the client would like to investigate lessons learned from other megasites around the country.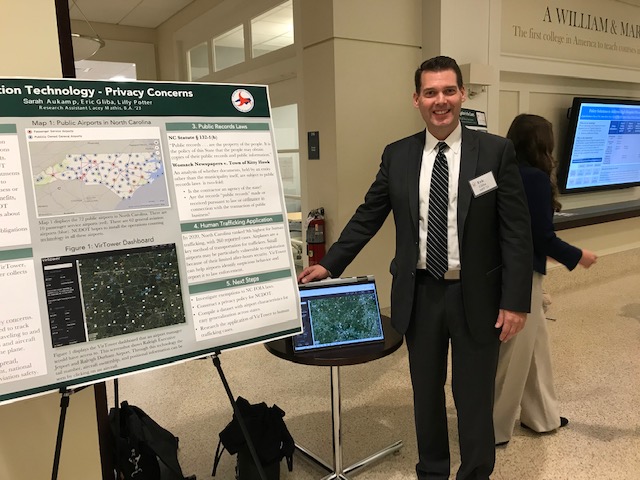 Project description: Analysis of Airport Operations Counting Technology Grant 
Client: North Carolina Department of Transportation
Being "First in Flight" has inspired the North Carolina Department of Transportation's (NCDOT) Aviation Division to continually strive to be on the leading edge of the aerospace sector. The state's forward-thinking agency encourages investigation of emerging technologies and leverages them to support the state's transportation infrastructure and help ensure a healthy economy. One such opportunity is around Airport Operations Counting Technology. These tools capture and process information from transponders and Automatic Dependent Surveillance-Broadcast (ADS-B) technology to monitor aircraft and airport operations. These tools support many purposes but vendors have begun to collect the data and help small airports track operations electronically instead of manually. Because the state's initial pilot study proved fruitful to the airports and NCDOT, state policymakers initiated a grant opportunity to encourage and enable other airports to participate. Gathering data statewide can be extremely useful for many things, including more accurate calculations of gating and fueling operations, improving distribution of financial resources, and tracking patterns of and disrupting human and drug trafficking. The client would like to examine the impact of this new technology on small airports' efficiency and security.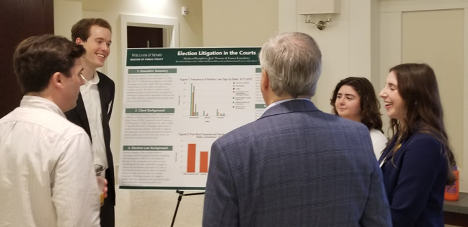 Project description: Election Litigation in the Courts
Client: Election Law Program
The client, the Election Law Program (ELP), a joint effort of the William & Mary Law School and the National Center for State Courts, seeks to provide practical assistance to judges called upon to resolve difficult election law disputes. As election litigation began to rise following Bush v. Gore in 2000, the Conference of Chief Justices (CCJ) reached out to the National Center for State Courts (NCSC) for help. The NCSC and William & Mary Law formed the Election Law Program in 2005 with a mission to provide resources for judges deciding election cases. To further that mission, the project will develop and implement an approach for considering the details of these cases to help inform future work of ELP and its partners, including policy partners and foundations, across the country. Overall, figuring out how to collect and deploy data about election litigation will assist ELP (and many other organizations) in determining how best to use resources and address areas of particular concern as election litigation—especially since 2020—continues to explode.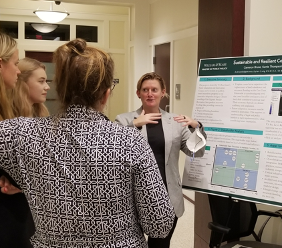 Project description: Sustainable and Resilient Coastal Communities
Client: Virginia Sea Grant
The client, Virginia Sea Grant (VASG), a six-university partnership in Virginia working with organizations inside and outside government, strives to improve coastal ecosystems, coastal communities, and working waterfronts. VASG is interested in developing a water adaptation and innovation economic development initiative, including models for human inhabitation and commerce on the coast under future climate conditions. The design has the aspiration of being small, self-sustaining, and climate change resilient. Innovative use of both conventional and unconventional building materials and systems are a crucial aspect of the design. The project will consider the interrelationships of human and natural systems when addressing coastal resilience. The analysis and report from the Public Policy team will contribute to a broader interdisciplinary effort of VASG, which is working with two other teams under the broad umbrella of coastal sustainability and resilience. The other teams are the James Madison University program in Architectural Design and the Virginia Coastal Policy Center at William & Mary Law School.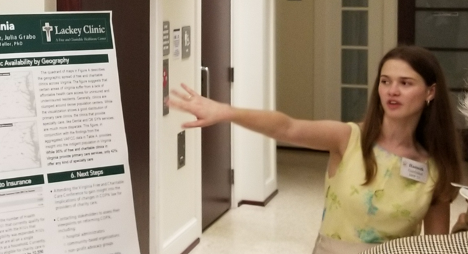 Project description: Medicaid Expansion, Income Thresholds, and Access to Care
Client: Lackey Clinic 
The client, the Lackey Clinic, is a free and charitable healthcare clinic 501c3 that cares for uninsured Virginians, focusing on Williamsburg and the surrounding region. It embraces a faith-based mission while also working with governmental and other partners such as the Williamsburg Health Foundation, York County, and the Virginia Department of Health, as well as major health systems such as Riverside and Sentara. Lackey Clinic is interested in understanding the impact of Virginia's current Certificate of Public Need (COPN) law on the amount of charity care provided to the medically uninsured. Charity care is defined as any healthcare service that is delivered to a patient who has a family income at or below 200% Federal Poverty Level (FPL). In 2018, Virginia expanded the Medicaid program to insure individuals from 0% up to 138% FPL, thus greatly reducing the proportion of uncompensated care these hospitals must provide to patients. Since hospitals now receive reimbursement from Medicaid for patients 0%-138% FPL, the charity care requirement now only covers a fraction of the uninsured population whose income is 139% to 200% FPL. The client is interested in learning about implications of changing the law to expand eligibility beyond current limits.