Anna Marie Flatt chats with alums Sophie Kidd and David Lanham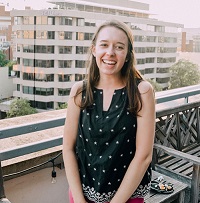 I was fortunate to interview W&M alum, Sophie Kidd, who graduated with a Bachelor of Arts in Public Policy in 2020. Ms. Kidd currently works as a project associate for Afterschool Alliance.  However, at the time of our meeting, she was completing her work as a research analyst at Policy Studies Associates, where her day-to-day tasks included conducting literature reviews, writing and editing research reports and briefs, and collaborating with her team. One skill that she said is critical for her work is being able to take a complex policy, break the issue down, and explain it to a general audience.
As a 2020 graduate, Ms. Kidd had a very interesting journey leading to her position with Policy Studies Associates, which was her first job after graduating. During her senior year at W&M, Ms. Kidd not only felt pressure to have everything figured out, but she went through the stages of grief as the COVID-19 pandemic cut her senior year short. She found her position at Policy Studies Associates by using a cold messaging strategy, where she reached out to past contacts and was informed about the opportunity through a casual chat with a senior researcher. Now, she is happy with her career and finds her work very meaningful.
During her time at W&M, Ms. Kidd was a member of the sorority Delta Gamma and the service fraternity Alpha Phi Omega (APO). She also worked as a tour guide and an orientation aide. For her summer breaks, Ms. Kidd gained work experience through internships in the DC metro area: one at the Bipartisan Policy Center and another at the SOS Children's Villages.
Another important part of Ms. Kidd's college experience was her involvement with the W&M DC Center, where she took two classes with Professor Drew Stelljes: a leadership course and the urban education course. As part of these classes, she went on DC site visits and met W&M alumni. She said that Professor Stelljes was an excellent professor because he taught her how to ask good questions, which is a skill that she continues to use in her work. Ms. Kidd said that these classes ultimately "change you as a human being."
When sharing her advice for current students, Ms. Kidd had a lot to say. Because she did not have a job lined up immediately out of college, she told me that students should trust the process and respect the journey. She emphasized that it is okay to graduate without a job and that students should go easy on themselves. For her, networking and cold messaging were important parts of her job search, so she recommended the same strategies for current students. She explained that students should see professors and form positive relationships with them. Ms. Kidd also said that students should cast as wide a net as possible and reach out to various people in order to  make good connections that will help later.
---
I was fortunate to interview William & Mary alum, David Lanham, who graduated with a Bachelor's of Arts in Public Policy in 2008. Mr. Lanham is now the Director of Communications at the Metropolitan Policy Program at the Brookings Institution, where he works with a team of experts and scholars to produce and promote policy research and recommendations. Some of his day-to-day tasks include interacting with media, editing research publications, and collaborating with his team. His work in particular deals with topics relating to economic development, such as infrastructure, changing demographics throughout the nation, and the impacts of racism. The final products of his team's projects reach both policy makers and citizens via media publications, and the ultimate goal of their work is to create a better informed citizenry by providing accessible data analysis and policy recommendations.
What I found most interesting during my talk with Mr. Lanham was the historic context in which he attended school and graduated from William & Mary and how it relates to today. We are now in the midst of another great economic recession, and one concern that many William & Mary students have is how they will get their careers started given the circumstances. Like today's students, Mr. Lanham was graduating and entering the workforce at a time of heightened economic uncertainty. Mr. Lanham joked that he used to tell people that he graduated from college at the worst possible time; now he tells people that he graduated at one of the worst possible times.
When sharing his advice for current students, Mr. Lanham said, "actual experience is the most valuable." He shared that when he was in college, he and his peers were not as forward-thinking as many current William & Mary students. His best advice for William & Mary students is to take advantage of opportunities to build a professional network and gain experience while still in school. Praising my efforts to speak with alumni such as himself, Mr. Lanham stated that, "any of this stuff you can do now will help you down the road."
He noted that when he was a college student, he did not know what kind of career he wanted. William & Mary's liberal arts curriculum was appealing to him because it provided a wide selection of courses to try out. At William & Mary, he was drawn to major in public policy because it allowed him to learn about multiple disciplines, such as economics, government, and sociology. When he graduated, he did not know that he wanted to work in communications, and he did not decide on that path until he had tried it out. Now, he is happy with his work and career. It is for this reason that he recommends that students apply for internships, research positions, and other opportunities because it will help them discover their interests and develop a better idea of what future careers they would prefer.