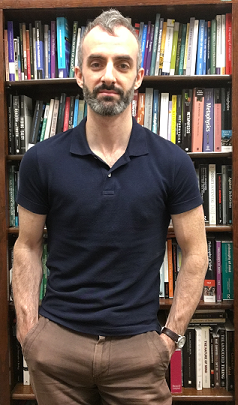 Jonah P.B. Goldwater
Visiting Assistant Professor
Office: James Blair 140
Email: [[jpgoldwater]]
Dept. Office Phone: 757-221-2716
Webpage: {{http://www.jonahpbgoldwater.com/}}

Background
Jonah Goldwater's primary research areas are in metaphysics, political philosophy, and the history of philosophy.
He has been at William & Mary since 2014, where he regularly teaches courses on the philosophy of freedom, the meaning of life, and critical thinking. He has also taught metaphysics, ethics (meta-, theoretical, and applied), the philosophy of mind, the philosophy of technology, and various introductory surveys, both contemporary and historical.
He has papers published or forthcoming in journals such as Synthese, American Philosophical Quarterly, the Journal of the History of Philosophy, the Journal of Ethics and Social Philosophy, Erkenntnis, the Journal of Consciousness Studies, and Philosophia, among others.
Not all of his sentences contain commas.