Faculty Profile: Professor Robert Sanchez
Robert Sanchez was born and raised in East Los Angeles. He earned his B.A. in philosophy at Pitzer College, one of the Claremont Colleges, and his M.A. and Ph.D. in philosophy at the University of California, Riverside. In his dissertation, The Virtues of Irony and Silence: An Ethical Reading of Socrates, Kierkegaard, and Wittgenstein, he explores the parallels between the Socratic dialogues, the pseudonymous literature of Søren Kierkegaard, and Ludwig Wittgenstein's Tractatus Logico-Philosophicus, in order to elucidate their common ethical or therapeutic aim.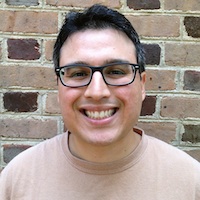 Although Sanchez continues to work on the ethical and religious dimensions of Wittgenstein's and Kierkegaard's philosophy, as well as on the nature of irony, he is also currently working on Latino and Latin American philosophy. He is particularly interested in the questions, "What is Latino or Latin American philosophy?" and "Does it make sense to distinguish philosophies by race, ethnicity, or culture?" Not only are these questions fundamental to the recent but growing effort to distinguish Latino and Latin American philosophy in the US, but they are also central to the development of 20th century Mexican thought, Sanchez's main focus. He is now in the early stages of compiling and translating an anthology of 20th century Mexican philosophy, whose aim is to capture the role of philosophy in Mexico's ongoing struggle to establish its own cultural identity.
Over the past two years, Sanchez has been able to combine his areas of research by participating in "Wittgenstein en Español," an international conference in Latin America on the philosophy of Wittgenstein, which was held in Xalapa, Mexico last September and which will be held in Rosario, Argentina in October 2013. He also visits the Instituto de Investigaciones Filosóficas at the Universidad Nacional Autónoma de México (UNAM) in Mexico City, where he plans to continue working with resident philosophers on both Wittgenstein and Mexican philosophy.
As an educator, Sanchez hopes to make philosophy attractive to students with diverse interests and backgrounds. To this end, he continues to offer classes on Latin American philosophy, the philosophy of race, and the ethics of immigration. He has also been actively involved with the Latin American Studies program since he arrived at William and Mary in 2009. In the spirit of establishing interdisciplinary approaches to common issues and questions on campus, Sanchez has collaborated with Silvia Tandeciarz, John Riofrio, and Jonathan Arries in Hispanic Studies, and Jennifer Bickham Mendez in Sociology, to develop the Borderlands Field Research program - a capstone field research experience for students working on issues pertaining to immigration and borders. In the spring of 2011, he co-led a delegation of William and Mary students to the US-Mexico border for one week to conduct field research on the border. He will be co-leading the same program in January 2013.

Although Sanchez still considers himself an Angeleno, and always will, he is proud to begin his fourth year at William and Mary. He is especially proud to contribute to William and Mary's commitment to academic and student diversity, as well as to the ongoing interdisciplinary faculty teaching and research collaborations.