Below is a detailed list of some of the most common venues for Department of Music events. Before you join us for an event on campus, please consult our driving directions and parking information. For the most current list of Music Department events, please view our Events Calendar.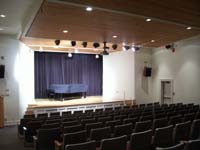 Ewell Recital Hall
The Recital Hall is a functioning academic space as well as a performance hall. In it our students rehearse, take private lessons, present their senior projects, and learn that most subtle of arts: audience interaction in performance. We host a variety of performances, including our Ewell Concert Series, in the Hall each semester as well as academic events. These are offered free to the public. The Recital Hall is located in Ewell Hall on the William and Mary campus. Entry is on the west side of the building (this entrance is labeled "Music Department" above the door). The Hall seats approximately 130 people and is wheelchair accessible from the east side of the building.
Bruton Parish Church
Located east of Merchants Square at 200 Duke of Gloucester Street, between Nassau Street and Palace Green Street in the heart of the Colonial Williamsburg restored area. Parking is permitted on Duke of Gloucester Street in front of the church for concerts and other special occasions. The church asks that parking spaces close to the front or side of the church be saved for those who are disabled or have difficulty with walking a distance.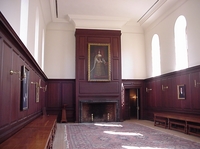 Great Hall & Wren Chapel
Both venues are located on the William & Mary campus at the Christopher Wren Building at the corner of Jamestown Road and Richmond Road ("College Corner"). Both venues have excellent acoustics and are beautiful historic settings in the oldest academic college building in the United States. The Great Hall is the North wing and seats up to 100 people; the Chapel is the South wing and seats up to 120 people (if the balcony is used, 100 if it is not). The Great Hall is wheelchair accessible.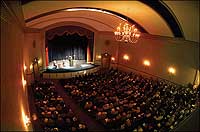 Kimball Theatre
Located in Merchants Square on Duke of Gloucester Street between Boundary Street and Henry Street. There are 410 seats with space to accommodate six wheelchairs. Restrooms are wheelchair accessible, and a wheelchair lift can be used to access the stage area. Assisted listening devices are available for all performances.

Phi Beta Kappa Hall
PBK Hall is currently under renovation. It should re-open in 2021.
Williamsburg Regional Library Theatre
Located at 515 Scotland Street, two blocks north of Merchants Square. Theatre doors open 30 minutes before show time; library doors open one hour before show time. The theatre has 268 general admission seats and is wheelchair accessible. Parking is available in the library parking lot or on adjacent streets.