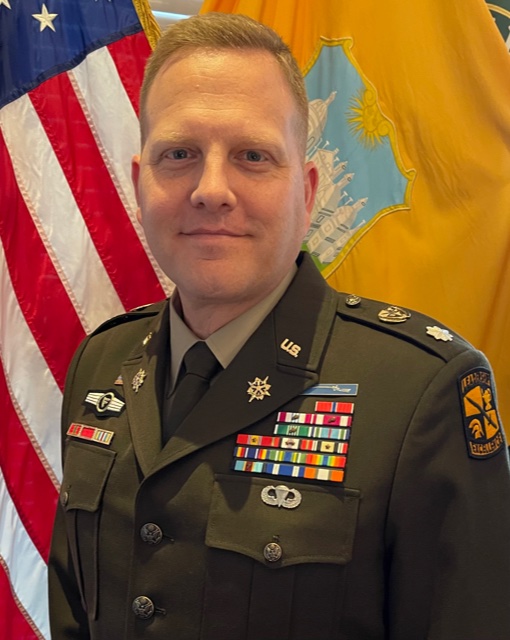 Lieutenant Colonel Jason C. Finch
Professor of Military Science/Chair/MSIV Instructor
Office: Western Union Building 108, W&M
Email: jfinch@wm.edu
Office Phone: 757-221-3606

A native of Washington, D.C., LTC Jason C. Finch enlisted in the United States Army Reserve in 1995 as a Civil Affairs Specialist, assigned to the 352nd Civil Affairs Command in Riverdale, Maryland.  This helped continues his family's lineage of service that began in 1632 when John Finch was among the first two men fined for missing drill in the Bay Colony militia; included Jonathan Finch, a Revolutionary War Soldier, then Sergeant, and eventual Chaplain during the War of 1812; and Rogers B. Finch, the Army Chief of Heavy Textile Research during World War II. 
After graduating with a degree is Government and Politics from the University of Maryland in College Park, LTC Finch earned a commission from the Bowie State University ROTC program.  Much, much later LTC Finch graduated with a Masters of Public Administration from the George Mason University Schar School of Policy and Government as a Performance-Based Graduate School Program attendee. 
As a Lieutenant, LTC Finch served first as a Rifle and then Heavy Weapons Platoon Leader in the 2nd Battalion, 505th Parachute Infantry Regiment (PIR), 3rd Brigade, 82nd Airborne Division at Fort Bragg, North Carolina.  This included a 6 month rotation to the Multinational Force and Observers in Sinai, Egypt where he commanded a checkpoint on the Egypt-Israel border. 
As a Captain, LTC Finch was selected to deploy as the 505 PIR Assistant S-2 to Afghanistan in support of Operation ENDURING FREEDOM in 2002.  He then served in the Republic of Korea as the Plans Officer for the 532nd Military Intelligence Battalion (Operations), 501st Military Intelligence Brigade.  LTC Finch extended in Korea to command the Headquarters and Headquarters Company, 501st MI BDE.  He was then selected as a Joint Intelligence Instructor for the United States Pacific Command (USPACOM), Camp H.M. Smith, Hawaii.   
LTC Finch was then selected as the Operations Support then Operations Officer for the USPACOM J-2X.  While at USPACOM, LTC Finch deployed as an individual augmentee to serve as the US Forces-Iraq Deputy Counterintelligence Coordinating Authority in support of Operation IRAQI FREEDOM.  He then served as a Red Team Member for the V(US) Corps in Wiesbaden, Germany then on the NATO International Security Assistance Force (ISAF) Joint Command (IJC) Commanding General's Initiatives Group in support of Operation ENDURING FREEDOM.  Upon redeployment and inactivation of V(US) Corps, LTC Finch was chosen as the S-3 then last Executive Officer for the 1st Military Intelligence Battalion (Aerial Exploitation), 66th Military Intelligence Brigade. 
Much later, LTC Finch was selected to command the Headquarters Battalion for the Army Training Center and Fort Jackson.  After completing that tour, LTC Finch was selected to serve as the Director of the Office of the Chief, Military Intelligence at Fort Huachuca, Arizona. 
His schooling includes the Infantry Officer Basic, Military Intelligence Officer Transition and Advanced Courses, the Army's Command and General Staff College Combined Armed Services and Staff School and Intermediate Level Education, the Army Counterintelligence Special Agent Course, and numerous Intelligence Community schools.  Operational and combat assignments include Egypt, Israel, Afghanistan, Republic of Korea, Iraq, and the Philippines. 
His personal awards and decorations include the Bronze Star, Defense Meritorious Service, Meritorious Service, Army Commendation, and the Joint Service Achievement Medals; the Expert Infantryman Badge; and the Parachutist Badge.  Additionally, LTC Finch is a recipient of the Military Intelligence Corps Association's Knowlton Award and the German Führungdienst Personel Award in Bronze.