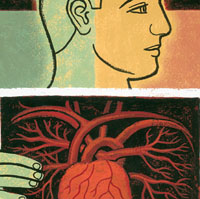 For people trying to protect their bodies from heart disease, a type of drug might be the "new aspirin," and a Kinesiology professor who studies the heart wants to know why. Heart disease is the nation's number one killer.
In 2006 about 1.2 million Americans will have a heart attack, says the American Heart Association (AHA). Slightly less than half of them will die. Chances are high that you or someone you know is at risk.
But take heart. A researcher at your alma mater is among the countless scientists studying ways to prevent cardiovascular disease.
Brennan Harris '93, an assistant professor in the College's kinesiology department, has devoted his career to studying cardiovascular physiology with particular emphasis on how exercise protects the heart. Currently, however, he is researching how a drug meant to prevent heart disease in one way also - surprisingly - helps reduce the risk of heart disease in other, unpredicted ways.
About four years ago, while he was still in a postdoctoral position in vascular biology at the Medical College of Georgia, Harris learned of a clinical study in which doctors had administered HMG-CoA reductase inhibitors (commonly known as statins) to patients arriving in the emergency room with symptoms of a heart attack. The mortality rate for these patients was significantly lower than for those who had not been given the drug; health improvements were seen in a matter of days. As statins were originally developed to lower cholesterol over a period of weeks to months, these results were puzzling.
"It seems to be sort of a wonder drug," Harris says.
The intended purpose of statins - lowering cholesterol levels - has an obvious effect on heart health. The AHA says that high cholesterol is a major risk factor for coronary heart disease. By prescribing statins, such as Lipitor, Zocor or Pravachol, doctors can help bring an at-risk patient's cholesterol down to a healthy level.
"Studies suggest that these drugs may help reduce cardiovascular disease in ways other than their intended purpose, such as lowering blood pressure," explains Harris.
Like cholesterol, the AHA lists low blood pressure as a key factor in preventing heart disease.
Curious to understand why this positive side effect occurs, Harris applied for and received a highly competitive Scientist Development Grant from the AHA. The grant, for which Harris is principal investigator, is officially titled "Mechanisms of eNOS Phosphorylation and Activation by HMG-CoA Reductase Inhibitors." When Harris accepted his current position at William and Mary in 2004, the study came to Williamsburg with him.
In the Molecular and Cardiovascular Physiology Laboratory, a recently renovated on-campus kinesiology research lab, Harris is working with undergraduate students to examine the short-term effects of statins on an enzyme known as endothelial nitric oxide synthase (eNOS), which helps regulate blood pressure and other cardiovascular events that can ultimately lead to the development of heart disease.
"The best analogy is a garden hose," explains Harris. "If you squeeze it, the water pressure in the hose goes up. If you relax your grip, the pressure goes down."
Similarly, blood pressure can be lowered when nitric oxide is released from the endothelium - the cells lining the blood vessels - which causes blood vessels to relax and dilate. Nitric oxide is produced and released by the activation of eNOS through a process called phosphorylation. This process can be instigated by the introduction of statins. Using lab rats and cultured endothelial cells, Harris and his students have been able to recreate this process and study how and why it works.
Harris has already published some of the results of these studies in the American Journal of Physiology. Meanwhile, and for the forseeable future, he will continue to work with undergraduate William and Mary students in his laboratory. They will evaluate the importance of each of the sites that might be phosphorylized by statins and therefore might help protect the heart.
Scientists have compared the positive side effects of statins to the long-known positive effects a small daily dosage of aspirin has on the heart - even going so far as to call them the "new aspirin." But Harris points out that the heart-healthy benefit of aspirin - thinning of the blood - is different from the benefits of cholesterol-lowering drugs.
"Ultimately, I hope the results of this study will help us understand how statins can provide protection against cardiovascular disease independent of their cholesterol-lowering effects," says Harris. "This information may help us develop better drugs for cardiovascular protection or identify new therapeutic uses for statins."
Source: W&M Alumni Magazine, Spring/Summer, Vol. 71, No.3/4. Article by Sylvia Corneliussen; illustration by James Steinberg.