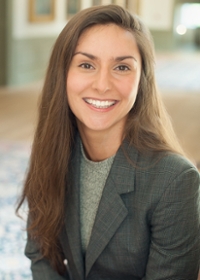 Cara Elliott
Ph.D. Student (ABD)
Advisor: Leisa Meyer
Email: caelliott@email.wm.edu
Current Research: History of Race and Gender, History of Children and Childhood, Twentieth-Century US History,

Bio
Cara Elliott received her B.A. in history and French with a minor in economics from Gettysburg College in 2011 and her M.A. in history from William and Mary in 2013. While Cara attended Gettysburg, she wrote a senior honor's thesis on C. Douglas Dillon, the United States ambassador to France during Dwight D. Eisenhower's first term as president. After coming to William and Mary, her research interests took a turn, and Cara's master's thesis focused on the Byleses, a Boston loyalist family separated by exile during the American Revolution, exploring the family's ability to maintain connections across geographic distance through the use of strategic letter writing tactics. This project led her to a sustained interest in family history and the history of childhood. For her dissertation, Cara returned to twentieth-century history, while also incorporating her interests in children and letter writing that grew out of her master's thesis. Her dissertation is titled "P.S. Don't Tell My Mother: American Children and the Development of Twentieth-Century Racial Ideologies, 1946-1991." She uses White, Black, Latina and Latino, Asian American, and Native American children's letters to public figures and other children's writings to explore the development of competing racial ideologies during the second half of the twentieth century. She argues that children's sources offer key insight into generational shifts - or lack thereof - in Americans' perceptions about race and civil rights and are therefore an excellent way to trace developments in the history of race in twentieth-century America.

Cara has received support for her dissertation through research fellowship awards from the Eisenhower Foundation, the Gerald R. Ford Presidential Foundation, the Harry S. Truman Presidential Library Institute's Committee on Research, Education, and Scholarship, William and Mary's Office of Graduate Student Research, and the Morton Fund through the William and Mary History Department. She is currently working on her dissertation with the support of the Provost Dissertation Fellowship from William and Mary. Cara has presented her work at the biennial meeting of the Society for the History of Children and Youth (SHCY), the 3rd Rutgers-Camden Graduate Student Conference in Childhood Studies – "Reimagining the Child: Next Steps in the Study of Childhood(s)," and at William and Mary's Graduate Research Symposium.