Profile: Carol Woody '71, Mathematics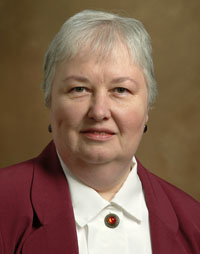 I had a lot of scholarship support during my time at William and Mary, and I feel like it is important to give back. I wanted my contribution to go toward something students could really benefit from.
I remember well the trauma of job hunting, coming out of college. I had the skills, but I didn't know how to market myself. I didn't know what it was like working in an office environment. I noticed that men were having an easier time getting jobs, and I was very conscious of this discrepancy.
How could we  help give less-prepared students, especially women students, what they need to be successful in the future?
In the 1990s, I funded the Real World Internship Award to help young students get early exposure to working in the world that they are targeting for a career. I wanted to give them the opportunity to ask themselves: is this good for me and how do I start to make traction in this field.
Through the fund, students can apply for support to complete an internship over spring break or during the summer. After completing the internship, each award recipient must write me a letter and tell me what they learned. For many students, an internship offers a toe-hold into a field that they can build from.
For others, the opportunity offers an early taste of the field that they can still recover from if they find it isn't for them. I remember one rising junior who thought she wanted to be in social work. Through an internship she realized that she didn't have the emotional strength for the field and decided to pursue a different course.
As a woman working in computer science, a field with a limited number of women, I often find myself in the role of mentor. There is a tremendous amount of opportunity out there, but you need to be able to look for it.
At William and Mary, I gained the grassroots and knowledge that have carried me through very well. I see my support as a wonderful opportunity to help those coming up behind me.
Woody works as researcher at the Software Engineering Institute. Carol Woody Real World Internship amounts of $200-400 are awarded to three to four students per year. Woody has also made generous contributions to the Music Department.