Students from Gul Ozyegin's class attend conference in Washington DC
On Friday, February 8th, 2008, Prof. Gul Ozyegin led approximately forty freshman and senior students to Washington, D.C. for a conference on Iraqi Women's Empowerment.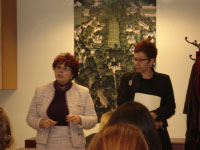 The event was sponsored by three William and Mary departments (Middle Eastern Studies, Sociology, and Women's Studies), the Charles Center, the Hadetha Foundation, and the Critchfield Fund. Mrs. Critchfield, whom Ozyegin described in her opening remarks as one who "embodies the unique middle eastern quality of generosity especially with her time," was in attendance. The all day event began at 7:30 am as students boarded a bus for the nation's capital. Students received a generous breakfast and, upon arriving, had an equally enriching day composed of four hour-long presentations. 
First to address the conference was Lina Omar, second secretary and public relations officer at the Iraq Embassy. Ms. Omar, born and raised in Sulaimany, Kurdistan in Iraq, highlighted the difference between her experience in Kurdistan and the situation in the heart of Baghdad. She noted, "Not all of Iraq is going through the same…process. There are good things happening too…the bad news is more interesting." Simultaneously, Omar emphasized the unity of Iraqi people even in their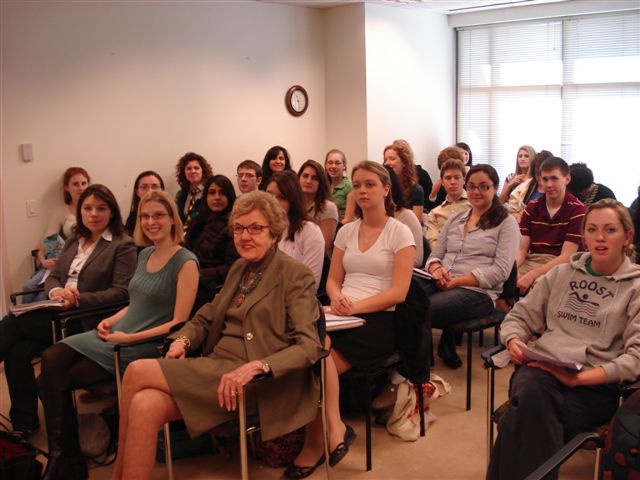 attitudes toward America. When asked about Iraqi perceptions of George Bush, Omar responded, "Everyone would vote for him in Iraq. No single Iraqi believed Sadam Hussein could be removed. On the other hand there are mistakes…[you] can't treat democracy the same because there is a different religion…we thank not only George Bush but all the men and women who served."
Next, students heard from Dr. Mishkat al-Moumin, the former Minister of the Environment in the interim Iraqi government. Moumin lectured on human rights at the University of Baghdad and currently is a professor at George Mason University. Moumin stressed the link between infrastructure and security, noting, "in order to get people water, I have to consult with the insurgency." When asked what was most needed in Iraq, Moumin cited clean water, electricity, and education as the top three underprovided resources. She went on to describe her plan for bringing security to Iraq, "if you secure a village then link it with another secure village then another then a county, then you will secure a country." When asked about the role of gender in this plan she replied, "let's use both eyes to see, to have a complete picture. 
Zainab al-Alwani, professor and director of Islamic, Arabic studies, and the culture of Middle East at Northern Virginia Community College NOVA, spoke next. Alwani, the only presenter wearing the hijab, spoke about women's roles in Islam and the conflation of female subordination with Muslim tradition. "My grandfather was always passionate about teaching the girls," she said, "we learned that women in Islam were strong, equal to men. They had the same mission on earth, not just in Iraq but on earth." She spoke about the veil as well; she said, "while you are wearing the Hijab…you are not only representing Muslim [women] but all modest women on earth…look at me as an active agent of society and not as a sexual object…it's a freedom and not an oppression."
Lastly, Banan Malkawi, chairperson of the Hedetha Foundation, spoke about the role of NGO's in Iraq. She spoke about the literal vulnerability of women saying, "Lack of security imprisons women and even men and children in their homes. Women are weaker than men; women are a soft target." In order to provide appropriate assistance, Malkawi categorizes Iraqi women into three groups: unskilled women without formal education, skilled and educated women forced from jobs by war and sanctions, and the already established business women in need of foreign investment. Students in Ozyegin's senior seminar will help to break some barriers themselves as they attempt to create business plans for Iraqi women of all three categories. Currently the Hadetha Foundation works with internal Iraqi organizations to create economic opportunity for women while avoiding social stigma. "Once you open your mouth about women," she said, "tribal men get very defensive." Malkawi believes that equal financial input leads to equal decision-making input. "Women's empowerment," she said, "can break own traditional barriers."