For Danielle Garrett '08, a Dedication to Women's Rights and Public Politics
Danielle Garrett '08, a Women's Studies and Government double major, is someone who is not afraid to advocate change.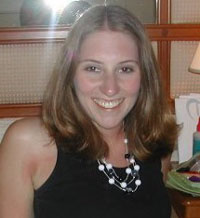 Interested in how public policy and women's lives intersect, she tries "to integrate my two majors as much as possible." She is dedicated to both activism and research on women's rights and public politics.
The main integration of these majors has been through her honors thesis, "Gender Performance in Political Campaigns," in the Government Department. Her thesis looks at political campaigns through a feminist lens. "Are women performing gender in different ways on different issues? I'm looking at what factors impact a candidate's strategic use of femininity - what issues they are discussing when they emphasize motherhood, or whether they act more or less feminine running against a man verses another women." Danielle needs more than one subject for her research, and she would prefer not to look at presidential candidates. She's still narrowing down her field of research subjects and hopes to center on candidates for the U.S. Senate and state governorships.
Her thesis has also given her the opportunity to work with William & Mary faculty. "It's been a really great experience so far, and I feel lucky that I have the opportunity to do this kind of work and feel really supported in it." This seems to echo her general experience in both activist and academic work. "I've been surprised at how supportive the campus has been. And Government professors are supportive of a feminist view."
If there was something Danielle wasn't expecting to get involved with at William & Mary, it was theatr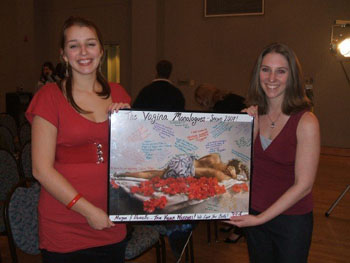 e. After co-directing The Vagina Monologues and now co-directing Jane, a play about a group of women performing abortions in pre-Roe v. Wade America, her perspective has changed. "I think theatre is a really great form of activism, because it impacts people on so many levels. It's very active and ongoing and layered."
She sees plays as not an hour or two of performance but as a process in which everyone changes and evolves. "During the process you can see how the cast and the crew's consciousness rises and how they become involved and committed to the issue. Then on performance night you get to share that awareness with a larger community and see the audience really engage and consider your message."
Danielle finds activism incredibly important because of its ability to raise people's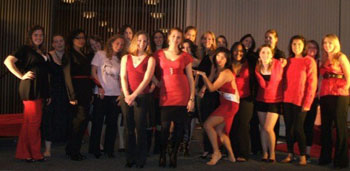 consciousness of public and political issues. "I think understanding how gender, race, class, and other identity categories operate in society is really useful in understanding politics and public policy."
Her interest in reproductive rights and Voices for Planned Parenthood (VOX), is crucial in integrating the political and activist, and also her two majors. "When discussing reproductive rights, it's important to understand political processes as well as the realities of women's lives." Through her work with VOX Danielle has found her (now favorite) project: "feminist activist theatre." 
After William & Mary, graduate school is Danielle's planned destination. She is applying to schools that offer public policy (including some feminist public policy) programs such as University of Texas at Austin, Georgetown, and Princeton.
Danielle's advice for future feminists of William & Mary is, "Anybody who comes to this campus who has an interest in these issues should take Intro to Women's Studies." Why? "It changes the way you look at the world." And to any aspiring activists, "Don't be afraid to go out and do things - don't think you have to be a junior or senior to get things done."