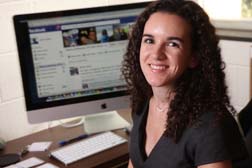 Jaime Settle
Wakefield Term Distinguished Associate Professor of Government
Office: Chancellors 361 (757) 221-2279
Links: [[jsettle, Email]] and {{http://jsettle.people.wm.edu/index.html, Webpage}}
Office Hours: Wednesdays from 2:30 pm–4:00 pm, If I'm not there, use {{https://cwm.zoom.us/j/4213053455, Zoom}}

Research Interests
American Politics, Political Psychology, Biological Components of Political Behavior, Social Networks and Social Media
Background
Jaime Settle is the David and Carolyn Wakefield Term Associate Professor of Government at William & Mary. She is the director of the Social Networks and Political Psychology Lab and co-director of the Social Science Research Methods Center. She also serves as the Director of Undergraduate Studies in the Data Science Program.
Professor Settle is a scholar of American political behavior with expertise in the fields of political psychology and communication. Her research focuses on how political interactions—in both face-to-face and online contexts—affect the way individuals perceive conflict in their environment, evaluate other people, and engage within the political system. She integrates tools from other disciplines—such as behavior genetics, psychophysiology, and data science—to inform our approach in understanding key questions within political science. Her research has been funded by the National Science Foundation.
Settle has published 20 peer-reviewed manuscripts or chapters in venues such as Nature, the Proceedings of the National Academy of Sciences, the American Journal of Political Science, and the Journal of Politics. In 2018, her first book Frenemies: How Facebook Polarizes America was published by Cambridge University Press and won a best book award from the Experiments in Politics section and an honorable mention from the Political Networks section of the American Political Science Association. She is currently working on a book manuscript exploring the decision-making process that underpins political discussion behavior, focusing on the perceived social costs and consequences of conversations about politics.
In 2018, she won an Outstanding Faculty Award—Rising Star from the State Council of Higher Education in Virginia, which recognizes excellence in teaching, research, and public service. In 2019, she won a Plumeri Award for Faculty Excellence, which will fund work with her lab students in the coming years. Settle serves on the board of the American National Election Study and is an associate editor at the Journal of Experimental Political Science.
Dr. Settle graduated Phi Beta Kappa and summa cum laude with a B.A. in Political Science from the University of Richmond (2007). She earned her Ph.D. in Political Science from the University of California at San Diego (2012).