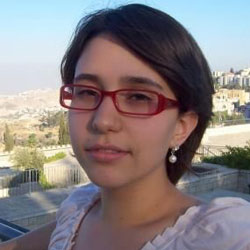 Noa Nir '13
Development Associate at Jewish Primary Day School
I became a youth director at a large synagogue in Northern Virginia immediately after graduation. After the position as youth director, I was a summer camp supervisor, and then a Senior Program Assistant at the National Academy of Sciences, Engineering, and Medicine; I currently work as a Development Associate at the Jewish Primary Day School of the Nation's Capital.
I think that any anxiety surrounding the decision to major in English, for many, stems from the fact that majoring in English is perceived as "useless" or "soft" or "impractical." I know that I had a lot of people asking me if I would go into teaching once I graduated. But it seems to me that finding a job isn't really about your degree. In the end, people mostly care about your work experience and the way you present yourself in interviews. Nobody commented on my GPA, my school, or my major in the (many) interviews I did once my job as a youth director ended.
I work in the field of science and medicine right now, and every day, I see brilliant individuals around me struggle to write clearly about complex ideas. I have edited some really poorly-worded documents. People around here are constantly sending me things to edit on the side.
If you are planning on marketing your writing and editing skills upon graduation, your degree and your cover letter will speak for you. Internships in your area of interest are also a sure-fire way to get you the kind of job you want. Your professional experience often outshines your academic experience. I was very lucky, for I had connections in Washington, DC, that allowed me to gain valuable internship experience over the summer. Another option is to locate summer writing programs that ask you to mentor younger writers . (I'm thinking specifically of the UVA Young Writers' Workshop, where college students can help high school-aged writers hone their craft.) In my view, everyone who wants to work in a scientific field should learn the Chicago Manual of Style - or some practical citation format - for chances are that many English majors will end up doing some kind of technical or scientific writing, and knowing Chicago Style is very important when it comes to writing scientific reports.
For me, the skills connected to the major involve writing and editing, and also the ability to think critically and meet deadlines. I will be a lifelong writer, so I'm always going to be developing my writing skills further. There are benefits that you will reap from writing endless papers as part of your major. The biggest benefit: you have something that hardly anybody has - a critical eye and the ability to write. You may not immediately end up in your dream job, but you can write and read and edit your way there - I promise. (Even though I'm not completely there yet.) Deciding to major in English was a no-brainer for me. I have never been surer of anything in my life. I have no regrets. It was the best decision I've ever made.