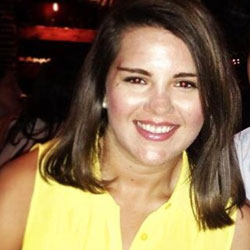 Diana Fakhouri '09
Senior Social Media Strategist at Hillary for America
Since I graduated as a William and Mary English major, I've held four different jobs: as a paralegal, non-profit digital media marketer, brand content strategist, and political social strategist. About four months after graduation, I accepted the first of these positions, a full-time job as a paralegal; I also wrote freelance articles for various websites in my free time. I wasn't sure whether I wanted to go back to school, and at the time, I considered law school or an English graduate program. I ended up staying at the law firm for a year and a half, and by the end of that time I decided to pursue a full-time job that more closely matched what I wanted to do - writing and communications.
As a paralegal, I managed case loads for the attorneys and wrote briefs, discovery drafts, and memos. It was a solid introduction to the working world and I continued the critical reading and writing I did as an English major. It also taught me that I was not interested in law as a career (and saved me hundreds of thousands of dollars in law/grad school debt!). While at the law firm, I continued working on freelance writing and realized that I wanted to work in digital media, and was able to make a transition into that field after leaving the firm. I wish that I had known about/completed internships as an undergrad at digital media companies, in which case I could have landed a writing/media role straight out of college. As I look back on my college courses in English, I find, funnily enough, that annotating poetry is a lot like live tweeting your favorite TV show - a shout out to Brit Lit II and "The Rape of the Lock."
While not directly related to my currently role - writing social media content for Hillary Clinton's campaign - analyzing fiction and writing persuasively on literary themes prepared me to take on every writing challenge I've faced in my career - from live tweeting the Playboy mansion Halloween party to hosting a Q&A on the Hillary Clinton Facebook page.