2012 Beckman Scholars Story
Beckman Scholars focus on the future
Sam Harvey '12 and Brian Rabe '13 seem to have been born under the same biology star.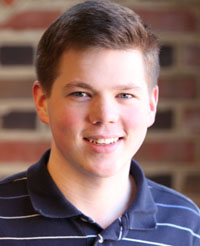 Both developed a deep passion for science at an early age. Both chose William and Mary because of the strong focus on undergraduate research. Both have been working on biology lab projects since freshman year.
Now, both have been named Beckman Scholars.
Sponsored by the Arnold and Mabel Beckman Foundation, the program offers recipients financial support for continuing their
mentored research work over two summers plus their senior year at the College. Since the scholarship's inception in 1997, William and Mary has had almost two dozen undergraduate scientists serve as Beckman Scholars.
"It's been a great experience," says Brian, who is a double major in biology and chemistry. "Being able to research over the summer has been crucial. It is great to have the time to focus and learn without needing to work on classes as well."
Brian began working in biology professor Margaret Saha's lab in the spring semester of his freshman year.
"We are looking at the role of GABA, a neurotransmitter that is present in the nervous system during early development," says Brian. "We have found that if we inhibit one of the GABA receptors, there is a vast reduction in size and function in some of the developing parts of the brain in frog embryos."
Saha's research team is now working on ways to make their experiments more targeted to confirm that what they are seeing is really from GABA reflectors being knocked down. 
"This summer, I will take a more global look at how calcium affects gene expression," says Brian, who hopes to start a Ph.D. program after he graduates and focus on developmental biology. "I am hoping my results may point back to the effect on GABA receptors. Ultimately, this GABA research could lead to a better understanding of how diseases like epilepsy and schizophrenia work and how they can be treated. The results may also help scientists along the complicated path of stem cell research in the treatment of neurodegenerative disorders."
Sam is also grateful for the opportunities the Beckman Scholarship brings.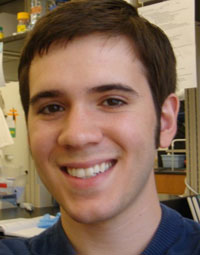 "I felt elated when I was awarded the Beckman Scholarship," says Sam, who is a biology major. "The scholarship has allowed me to focus solely on my Honor's thesis and research without having to worry about defraying the cost of school."
Sam began working in biology professor Mark Forsyth's lab in the spring semester of his freshman year.
"We are studying the bacteria Helicobacter pylori, a human gastric pathogen discovered in the 1980s," says Sam. "It is the primary causative agent for peptic ulcer disease, and it has a strong association with gastric cancer."
The bacteria infect about 50 percent of the population, but only 10-20 percent exhibit symptoms.
"It's the only bacteria we know of that lives in the stomach proper and is highly acid-resistant," says Sam. "This summer I will investigate how this bacteria senses changes in the environment and responds to those changes on a genetic level. I will test changes in acidity, reactive oxygen, and different metal ion concentrations."
In the fall, Sam will start the M.D./Ph.D. program at Northwestern Medical School in Chicago. He plans to focus on human genetic diseases like cancer, sickle cell anemia,
and cystic fibrosis. He hopes to become a professor at a medical school with a research lab and medical practice to treat patients with the diseases he is researching.
As part of the scholarship program, Brian and Sam will also attend the annual Beckman Scholars Symposium in Irvine, California, this summer. Both are excited to meet their undergraduate peers from other universities and learn more about the projects others are working on.
Clearly, the Beckman Scholarship has helped make the stars align for these two.
"I couldn't be more thankful for my experience here at William and Mary," says Sam. "The Biology Department is like a bottomless well of support. All you need is motivation and energy, and they will help you every step of the way."