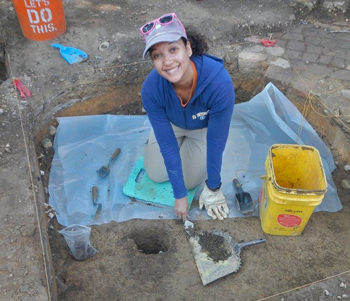 Chardé Reid
Year Entered: 2017
Degree Sought: M.A./Ph.D.
Sub-field: Archaeology
Research Interests: African Diaspora Anthropology and Archaeology; Engaged and Community-Based Archaeology; Critical Heritage Studies; Black Feminist Theory; Critical Race Theory; Historical Memory; Archaeological Ethics
Regional Specialization: North America (Southeast)

Background
I am a Black feminist archaeologist who draws on anthropology, history, and Black studies methods and literature to examine how legacies of the past, particularly colonialism and white supremacy, inform our present and visions of the future. In 2018 and 2019, I became the inaugural First Africans Research Fellow for Jamestown Rediscovery Foundation and the National Park Service's Colonial National Historical Park at the Angela/ First Africans Site on Jamestown Island. I participated in public excavations, documentary research, artifact processing, preliminary analysis, and community engagement. A large portion of my fellowship focused on building relationships with African American descendants and local community members to form a descendant community group to consult on future African Diaspora research and interpretative efforts at Jamestown. Relatedly, my master's thesis explored the complex relationship between making African Diaspora history and culture visible at Historic Jamestowne, a setting that has historically been seen as "white public heritage space". I conducted a pilot study with local African American women that explored their feelings of inclusion and exclusion at Jamestown, production of knowledge, erasures of African American history, and recommendations for the respectful remembrance of African Diaspora culture and history at Jamestown.
Before joining William & Mary's anthropology graduate program, I served as the Assistant Archaeologist of the District of Columbia for seven years where I gained experience in collections management, geographic information systems (GIS), compliance review, cultural resource management, and publicly engaged archaeology. During my tenure in DC, I co-field directed small teams of archaeologists and volunteers at various sites in DC, including the Yarrow Mamout Archaeological Project, the Stanton Road Archaeological Project, and the Shotgun House Archaeological Project.

I am involved in several ongoing research projects but my primary fieldwork is based in southeast Virginia, where I am working with a local African American descendant community to explore the lives of their 17th-century ancestors in Newport News. My dissertation research investigates the relationship between archaeology, heritage, memory, and contemporary identity. My community-engaged and interdisciplinary research has previously been recognized with a Mark E. Mack Community Engagement Award (2016), a District of Columbia Awards for Excellence in Historic Preservation for Community Involvement/ Education (2017), and the National Park Service's Appleman-Judd-Lewis Regional Award for Interdisciplinary Stewardship Team (2020).
Publications:
"It's Not About Us": Exploring White‐Public Heritage Space,
Community, and Commemoration on Jamestown Island,
Virginia in the International Journal of Historical Archaeology, February 2021
Chardé has also recently published an op-ed in the William & Mary student newspaper, The Flat Hat, on the subject of community and reparations.