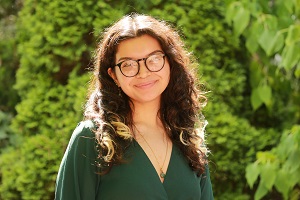 Ericka Torres
Admission Counselor
Regions: North Central (Loudoun County) Virginia, Alaska, California, Hawaii, Oregon, Washington
Email: [[ericka]]

Who am I?
My family is from El Salvador, I was born in Salinas, CA, and grew up in Sterling, VA before pursuing my bachelor's degree in Government and Sociology at William & Mary. During my time as a student, I strengthened my passion for social justice, while also exploring new interests and learning more about myself and my culture. I love art, coffee, plants, and people (especially at William & Mary)!
Why W&M?
When I was applying to colleges, I had no idea what I was doing and quite frankly, applied to William & Mary on a whim. A couple months later, I received a handwritten postcard from the admission counselor who had read my application – and everything changed. This personal touch made me feel seen, heard, and welcomed in a way that no other school had. Soon thereafter, I visited campus for the first time and got that same welcoming feeling from everyone I encountered. I enrolled that fall and never looked back! The people at William & Mary are so special and I am forever grateful that 17-year-old me could recognize that.
Why Admission?
My own experience as a first-generation college student that struggled throughout the college application process fueled my passion for access to higher education and piqued my interest in the admission process. As a student, I conducted research on marginalized communities in education and educational equity overall, but I wanted to make an impact. I became a Senior Interviewer in the Admission Office in hopes that I could give students the help and reassurance I once needed. I loved speaking to students, learning about them, and sharing my experiences and knowledge about W&M. I worked in the admission office throughout the rest of my senior year but didn't want to stop there. I am dedicated to this work and so excited to continue doing it at W&M!
Fun Facts:
I had a One Direction fan account in middle school! Niall Horan was my favorite.
I am the proud parent of a hamster named Tofu.
In middle school (I clearly had a lot going on) I invented the word llarafficorn, which was a combination of my three favorite animals at the time: llamas, giraffes, and unicorns.