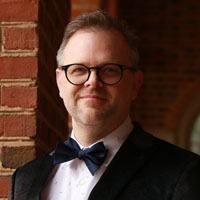 Matt Smith
Assistant Provost for Institutional Accreditation & Effectiveness
Office: Blow 204
Phone: 757-221-2797
Email: [[matt.smith]]

About Matt
Matt Smith is the Assistant Provost for Institutional Accreditation & Effectiveness (IAE). In W&M's Office of IAE, Matt leads institutional change processes and ensures compliance with the requirements of both the State Council of Higher Education for Virginia (SCHEV) and the Southern Association of Colleges and Schools Commission on Colleges (SACSCOC). In addition, Matt oversees the university's institutional effectiveness team as well as W&M's compliance with nationwide state authorization requirements.
Matt collaborates with leaders across the university in leading W&M's institutional accreditation and institutional change efforts. As W&M's accrediting body, SACSCOC regularly evaluates the university's compliance with the SACSCOC Principles of Accreditation to ensure the quality of all aspects of the university, including its programs and services, operations, and faculty/staff. Matt and his team also coordinate and support the preparation and submission of academic program actions and organizational change proposals to SCHEV as the university continues to evolve and grow.
Prior to joining W&M in 2022, Matt served as Director of Accreditation at George Mason University and as Institutional Effectiveness Director/Compliance Manager and Associate Professor of Mathematics at Richard Bland College after several years of teaching middle school and high school students in Virginia.
Matt earned two bachelor's degrees from North Carolina State University and both a master's degree and a doctorate from Virginia Commonwealth University.