There has been a tradition at William & Mary of unique academic regalia for the chancellor of the College. Chancellor Alvin Duke Chandler's chancellor's robe consisted of dark green silk with gray velvet facings and sleeve bars edged with gold piping. Chancellor John Stewart Bryan had a similar robe along with a Beefeater-style cap of gray velvet and green faille.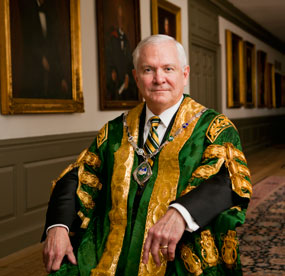 On December 5, 1986, the Board of Visitors established the official academic regalia for the chancellor of the College, which was first worn by the 20th chancellor, Warren E. Burger, at his investiture on February 7, 1987.
In 1993, the Board of Visitors elected Margaret, The Lady Thatcher as the 21st chancellor to succeed Burger. The Board, along with the Cypher Society, recommended that the chancellor's academic regalia be redesigned to honor the distinction of the position and the Tercentenary. With the Board's election on May 14, 2000, of Henry A. Kissinger as the 22nd chancellor, the William & Mary tradition of distinctive regalia continues.
The chancellor's academic regalia, first worn by Lady Thatcher, consists of a robe of green silk damask with cape collar and panel sleeves. The bottom of the robe and bottom of the sleeves are trimmed with two-inch gold oak leaf lace. Sleeve cuts, wings and back slit are trimmed with one-half inch gold oak leaf lace, while the sleeves are trimmed with gold ornaments with gold wings on each shoulder. The College coat of arms is on the cape collar. The chancellor's hat is green silk damask with gold bullion cord and tassel.
-By S. Dean Olson