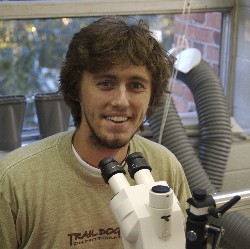 The undergraduate program of the Department of Biology offers a B.S. in Biology. Subjects within the field of biology range in scale from molecular genetics to global biodiversity.  The biology program has a focus of hands-on research, encouraging independent work and internships with experts in the field.  Our graduates share a degree in biology but work in diverse fields such as medicine, environmental management, research, industry, science writing and law.
Declaring a Biology Major
Students should review the Biology curriculum and the Biology Major Worksheet. Please remember that ANY Biology faculty member can be your advisor. Think about WHO you want to be your Biology advisor. Review the faculty listing to find a person who matches your interests.
To select an advisor, go to the Biology Department Office (ISC 3035) to sign up for an advisor. Not every faculty member may have open slots, so have back-up plans. After signing up, it is your responsibility to email the faculty member to introduce yourself and set up an advising meeting. In that email, let them know your availability over the next couple of weeks.
Before meeting with your Biology advisor, please download major/minor declaration forms from the Registrar's website and complete what you can, including a tentative list of classes that interest you.
 Read more about majoring in biology: